Khajuraho Dance Festival 2021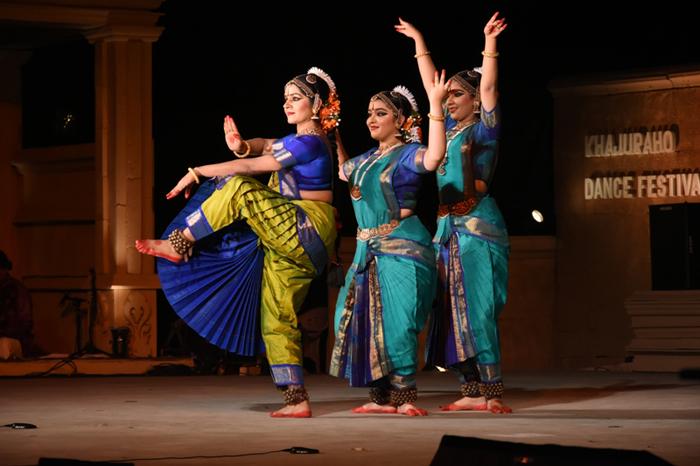 Khajuraho Dance Festival History
Khajuraho is one of the intriguing temple sites in India. The temple have an awe-inspiring association with classical dance forms. The temples are a treasure of carvings. The carved art ranges from day to day lifestyle to karmic sexual activities. Dance is a celebrated art in Hindu Mythology. In the olden times, the temples were the centre for the art of dance. Hindu myths have various tales of great dancers. The most legendary dance pieces are Shiva's cosmic dance, Tandava, Lord Krishna's Raas Leela with the gopis (female partners) and the mesmerizing pieces of fabled apsaras (heavenly beautiful women) such as Menaka, Urvashu and Rambha. The Khajuraho Dance Festival started in 2002 paying tribute to classical dance, music and art of India.
Khajuraho Dance Festival Celebrations
Khajuraho Festival is organized by the Kala Parishad under the Madhya Pradesh government whereby many popular classical dancers from all over India perform. The aim to hold this fest is to promote the cultural and heritage of India. The dance performances comprise intricate foot skills of Kathak, cultured Bharathnatyam, poetic temple dance of Odissi, dance dramas of Kuchipudi and Manipuri and the Kathakali stage fights with elaborate masks. The performances are accompanied by the melodious strains of the flute and tanpura, rhythms of beats of the mridangam and tabla echoed by the ghungroo of dancers. The event is held at open air auditoriums in two of the most popular temples of Khajuraho, the Chitragupta and Vishwanatha Temple. The glory of the art still shines through and draws visitors from all over the globe.
How to Getting There
Khajuraho city is well connected by air and rail. The city has own domestic airport and railway station. Khajuraho enjoys smooth connectivity by roads to cities in Madhya Pradesh and all over India. State owned buses, ac and non ac taxis and private vehicles commute to the city.