ITC Mughal - 5 Star Standard Tourist Hotels in Taj Ganj Agra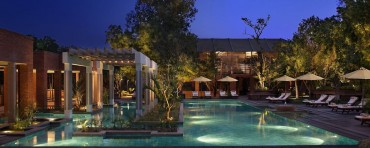 Classification
5 Star Standard
Hotel Type
Tourist Hotels
Location
Taj Ganj
,
Agra
,
Uttar Pradesh
Sprawled over 35 acres of luxurious gardens, and in close proximity to the Taj Mahal, ITC Mughal, a luxury hotel in Agra is a fitting tribute to the great Mughal builders of the past. The only Indian hotel to have won the prestigious Aga Khan Award for its excellent representation of Mughal architecture. This luxury hotel in Agra comprises of 233 opulent rooms and suites, recreating a paradise for the contemporary Mogul - full of splendor and perfection which was the hallmark of the Mughal Dynasty.
Description
A Glorious Inspiration
One of the richest and most powerful empires in the world at its zenith, the Mughal Empire has commanded the admiration and fascination of historians, poets and artists across the world since it rose to fame for the enviable extent of its wealth, the refinement of its courtly culture and the exquisite legacy of architecture and artistry that it established. This legacy comes to you, magnified in grandeur, imbued with the unmitigated essence of its grand Mughal inspiration and gift wrapped in the soft indulgence of world class luxury, only at ITC Mughal, Agra.
Historic Setting
The erstwhile capital of the Mughal Empire during the reign of Akbar, a destination on the itinerary of every traveler to India, offers a revealing glimpse into the refinement of Mughal courtly life and Mughal sensibilities, captured in its many historical sites, which in addition to Taj Mahal, include Fatehpur Sikri, the Agra Fort and the tombs of prominent members of the Royal Family.
ITC Mughal offers the finest leisure destination in the historic city of Agra, for an unsurpassable experience of Royal Indian hospitality. True to its stately inspiration, ITC Mughal expresses the untrammeled luxury of a Royal Refuge, with its 5 star luxury accommodation, acres of gardens that bear the mark of the paradisiacal landscaping typical to Mughal gardens with the use of water channels, fruit and flower bearing trees and shaded walkways.
Hotel Facility
Airport Transfers
Arcade / Game Room
Audio-Visual System
Ayurveda treatments
Backup Power
Luggage room
Restaurants
Bar / lounge
Business center
Car Hire
Coffee Shop
Concierge
Conference Hall
Currency Exchange
Doctor on Call
Porter
Parking
Garden
Gift Shop
Gym
Health club
Swimming Pool
Free wifi / Internet
Laundry
Dry Cleaning
Wheelchair Access
24-Hour Security
Multilingual Staff
Massage
Spa
Travel Desk
Sauna
Steam Bath
Breakfast
Babysitting
Medical Treatment
Guest Room Amenities
AC Room
Attached Bathroom
Cable/Satellite TV
Direct Dialing
H/C Water
House Keeping
Minibar
Newspaper
Safe Deposit Locker
Room Service
Wakeup Calls
Nearest Airport to ITC Mughal Hotel

Nearest Airport to ITC Mughal Hotel is Indira Gandhi International Airport. Distance between ITC Mughal Hotel and Indira Gandhi International Airport is 9 KM By Road.
Tourist Attraction near ITC Mughal Hotel

Tourist Attraction near ITC Mughal Hotel is Taj Mahal - The Romantic Monument (3.8 Km, 16min).