Wildlife Weekend tour & excursion from Delhi by Fairy Queen Train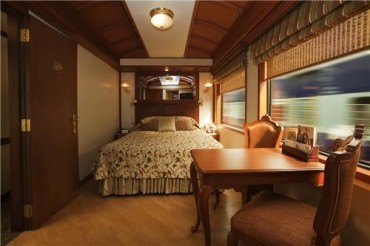 Duration
2 Days - 1 Nights
Destination Covered
New Delhi
››
Alwar
››
Sariska
››
Alwar
››
New Delhi
Book / Enquiry
Overview
Golden Triangle tour offers Rajasthan Fairy Queen luxury train tour, oldest locomotive train of India, book luxury on wheels in india, Luxury train with Sariska Tiger, Tiger trail Sariska Rajasthan, fairy queen royal rajasthan tour, Delhi sariska alwar delhi trip
Itinerary Details
About Fairy Queen
The Fairy Queen first started functioning for the East Indian Raiway in the year 1855. After a decade of operation, the train stopped from running in 1908, and it was only after 90 years that the train was brought back. During this period, it was kept in the National Rail Museum. Today, the Fairy Queen is the oldest steam running locomotive in the world with its name recorded in the prestigious Guinness Book of World Records. The Fairy Queen has also been the proud recipient of the National Tourism Award.
The journey in the Fairy Queen is for couple of days, yet the treatment accorded is equivalent to a royal form of Five Star Hotel. It is one journey that will not strain your pockets and yet allow you to enjoy the luxurious treatment. The pleasant journey through scenic places will add to the charming memories that you will carry back after the trip is over.
The Fairy Queen runs between Delhi to Alwar and is operated during the weekends. There are limited number of runs every year between October to February.
Destination Covered
Delhi - Alwar- Sariska - Alwar- Delhi
Months of Operation : October to March ( 2nd and 4th Saturday)
Schedule of operation : Fairy queen would be running as per the following schedule
Tour Details : 1 Night / 2 Days
Fairy Queen Stoppages : The train will stop for 10 minutes each at Garhi Harasuru, Pataudi Road, Rewari, Ajarka and Khairthal railway stations in both directions for water & other requirements of the locomotive.
ITINERARY
Day 1, Saturday
0830 hrs.
Reporting at the Delhi Cantonment railway station.
0900 hrs.
Fairy Queen departs.
1300 hrs.
Lunch on Board.
1500 hrs
Arrival Alwar Railway Station.
1520 hrs
Arrival Sariska by air-conditioned coach.
1630 hrs
Arrival Hotel Tiger Den (RTDC).
1930 hrs.
Theme dinner/Night Stay at Hotel.
Day 2, Sunday
0630 hrs
Jeep safari for Sariska National Park.
0930 hrs
Return from Sanctuary & breakfast at Hotel.
1200 hrs.
Departure Sariska by air-conditioned coach to Alwar Rly. Stn.
1245 hrs
Arrival Alwar Railway Station.
1300 hrs
Fairy Queen leaves Alwar.
Alwar
Alwar is a city in the Rajasthan state of western India. The city is located around 160 km south of Delhi, and around 150 km north of Jaipur (Capital of Rajasthan). Alwar has many interesting and historical monuments. Alwar's popularity as a tourist destination lies in its proximity to the famous Tiger Reserve of India, Sariska Wildlife Sanctuary. Other tourist attractions in Alwar are the Bala Quila, a massive ancient fort situated on a hill, and the Vinay Vilas Mahal, the city palace complex. Other than historical monuments, the city has a rich natural heritage with some beautiful lakes and picturesque valley thickly wooded in parts. A beautiful lake beside the city palace is a good spot to visit. The tomb of Tarang Sultan is also a tourist attraction worth visiting in Alwar.
Sariska
Sariska Tiger Reserve is famous for its magnificent tigers, leopards, Wild Dog, Jungle Cat, Hyena, Jackal, Sambar, Chital, Nilgai, Chausingha, Wild Boar and Langur. Sariska also shelters many different species of birds including Bush Quails, Sand Grouses, Tree Pies, Golden backed Woodpeckers, crested Serpent Eagles and Great Indian horned Owls. Sariska is an ideal leisure spot for those interested in wildlife and ancient architecture. The town has the ruins of 9th and 10th century temples. Siliserh Lake on the edge of the sanctuary is another attraction which is inhabited by crocodiles. Located right next to the tiger reserve is the Sariska Palace.
Special attractions: Cultural Programme & theme dinner, night stay at the Hotel Tiger Den.
Jeep safari for the Sariska National Park.
The Fairy Queen Round Trip Package Tariff
Full Package(Two-way train journey + sight-seeing / stay at Sariska)
One-way Trip Package(Between Delhi & Alwar + sight-seeing / stay at Sariska)
One-Way Train Journey(Between Delhi & Alwar only)
*(Half fare for children above 5 years but below 12 years of age).
*Children below 5 years – Free.
Your Tour Includes:
All meals-Breakfast, Lunch and dinner with tea/coffee provided on board or in hotels.
All transportation pickup, drop and sight-seeing by air conditioned coaches.
Jungle Safari in search of tigers in open jeeps (05 tourists in each jeep).
Govt. Service Tax.
Your Tour Does Not Includes:
Expenses of personal nature.
Local transportation in Delhi (To & From the Station)
Entrance fees during sightseeing.
Any other item not specified.
Booking rules :
Full package cost has to be paid at the time of booking.
Cancellation Rules :
1. There shall be no refund except.
a)- When the train is cancelled for technical reasons by the Railways.
b)- When the tourist is not able to travel on account of unforeseen circumstances.
2. The refund will be granted as follows :-
In case of (a) above
(I) Full refund of the fare less 1% handling charges
In case of (b) above
(I) No refund, if the ticket is cancelled less than 15 days in advance including the date of journey.
(II) 50% refund, if the ticket is cancelled more than 15 days in advance excluding date of journey.