Top Most Famous Cave Paintings in India
India is known for its multifarious art and culture. As per research and records, the oldest existing proofs of art in India can be traced back to the stone age. This tells us that the aesthetic value of art is such that it found a way to flourish even at the time when man was not civilized.
Cave paintings in India were discovered in Madhya Pradesh, Chattisgarh, Tamil Nadu, Karnataka, Maharashtra and Ladakh among many other places. India's rich history of paintings has called for recognition from all over the globe. In this article we have covered the top most cave paintings in India, where they are located, describing the type of paintings and their history.
Following are some of the most famous cave painting found in India:
Bhimbetka Cave Paintings
Bhopal in Madhya Pradesh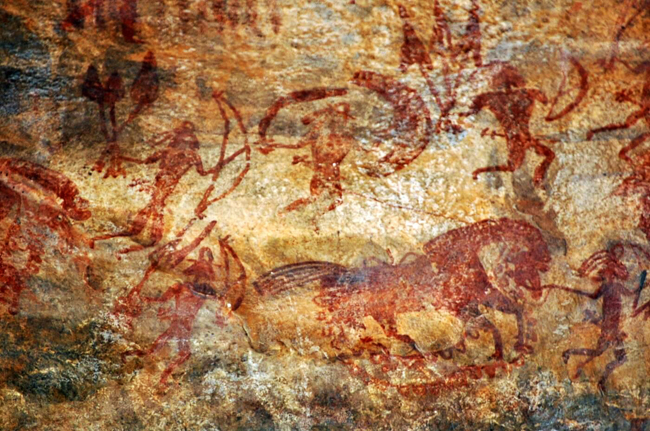 The paintings showcase the pre-historic mankind's lifestyle and their daily activities such as agriculture, hunting and celebration of festivals. The paintings in the Bhimbetka Rock Shelters are divided into different groups. There is one group that majorly represents hunters and food gatherers, and the other group has paintings of fighters, riding horses and elephants carrying weapons. The first group is said to be a representation of pre-historic times, whereas the latter represents the historic times.
This group of cave has more than 600 different caves, which were primarily shelters. Red and white are the most commonly used colors in the painting. The best part of this entire group of caves is a ceiling painting in one of the caves. The ceiling is quite high and the pre-historic man found a tool to raise him up to the ceiling. The oldest painting of this region is around 12,000 years older.
This cave is located in Bhopal. Bhopal is the central point from where one can get accessible roads, easy railways and flights to reach Bhimbetka Caves. The nearest airport is Raja Bhoj Airport (Bhopal) which is 45 kilometres away. The nearest railway station is Bhopal junction at a distance of 37 kilometres.
Adamgarh Hills Cave Paintings
Hoshangabad in Madhya Pradesh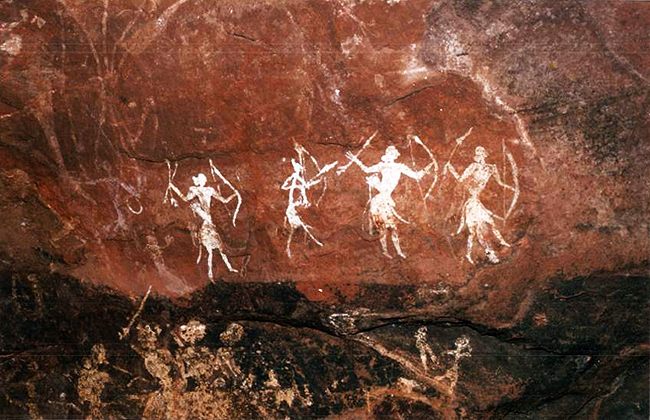 Adamgarh hills are situated 2 km south of Hoshangabad town, near the Narmada river. There are around 18 rock shelters in Adamgarh. Some of the shelters have visible paintings, others have faded with time and some due to vandalism by tourists. The shelters contain mostly miniature paintings the activities of human beings and animals. There are paintings of several animals like deer with 12 horns, horse in dark grey, elephant, two wide-horned cows, twelve-horned stag and giraffe. The wall is full of different paintings in red ochre, Two men fighting with swords and shields, A man hunting a bull with bow and arrow, A dancing peacock, A bull ready to attack with its horns towards the ground, soldiers riding on horseback and many more other paintings.
Bagh Caves Paintings
Dhar district in Madhya Pradesh
The Bagh Caves are a group of nine rock-cut monuments, situated among the southern slopes of the Vindhyas in Bagh town of Dhar district in Madhya Pradesh state in central India. These monuments are located at a distance of 97 km from Dhar town. These are renowned for mural paintings by master painters of ancient India. These rock cut caves are known for the Mural paintings.
One of the most notable features of the Bagh Caves is mural painting made in tempera technique. At the time of painting, walls and ceilings to be painted were covered up with a thick mud plaster brown in colour. Lime-priming is done and then paintings were made over them. In the 19th century, these paintings won so many accolades. When dirt, soot and grime were removed so many other surprisingly beautiful paintings came to the fore. Elegance and beauty of the paintings surpasses even the beauty of the most renowned Ajanta and Ellora caves. Murals of these caves are the reflection of Indian Classical Art.
Out of the nine rock-cut monuments situated in the southern slopes of Vindhyas, only 5 have survived. These caves serve as 'viharas' or 'monasteries' for the Buddhist monks. It is believed that the cave got their name from the word 'Bagh' or Tiger. Later on these caves served as mediation centers, religious sites and residential places of the Buddhist monks. Travelers can find the prevalence of Buddhist theology in these caves.
Jogimara Cave Paintings
Sarguja in Chhattisgarh
Jogimara Cave, which is situated at Amarnath near the origin of Narmada, in Sarguja in Chhattisgarh. The paintings of these caves have been dated from 300BC to as back as 1000BC. Interior of Jogimara cave is covered with paintings and here is the oldest known love message in the world. The painting was done in two layers – the original by an expert artist in the 1st century BC and the latter by another artist, in inferior quality. Drawings were made in lines. Red, black, white, and yellow colors were used. Each painting has a red outline.
At the root of this cave, there are seven paintings of human, fish, and elephant figures. Shown also a dancing couple near a lily flower, doll-like image, singers and dancers with a female dancer. Unclear chariot paintings, birds, animals shown as well. Some saints have been painted here as well.
Sittanavasal Cave Paintings
Puddukotai in Tamil Nadu
Sittanavasal cave is believed to have been home to Jain priests who had come down from the eastern parts of the country to propagate Jainism. Located in a tiny hamlet of Sittanavasal in the Pudukkottai district of Tamil Nadu. Sittanavasal Cave is generally considered a rock-cut monastery and houses. Several murals made of vegetable and mineral dyes in numerous colours such as yellow, orange, blue, white, green and black are used to create lotus ponds, fish, buffaloes, elephants, etc. These paintings are definitely masterpieces in their own ways considering the period in which they were made. Today, this cave temple or monastery is under the care of the Archaeological Survey of India and has been converted into a ticketed monument. Sittanavasal Cave is extremely popular amongst tourists for its wall paintings which are carefully made keeping minute things in mind such as designs, borders and appropriate use of colours.
Badami Caves Paintings
Bagalkot in Karnataka
Badami is famous for its rock cut temples in the cliffs of red sandstone that surrounds the Agastya Lake. It is said that the Chalukya city of Badami was founded around 540 AD by King Pulakeshin. The Cave Temples of Badami were made between 6th and 8th Century AD. These are a mix of Hindu, Jain and possibly Buddhist temples. There are a total of 4 main caves. Cave 1, dedicated to Shiva and Parvati are the nearest to the ground level, the first Cave that you encounter as you start entering the complex. Cave 2 is dedicated to Lord Vishnu. Cave 3 is also dedicated to Vishnu and is the earliest dated Hindu Temple in the Deccan region. Cave 4 is dedicated to the Jain Tirthankaras.
Ajanta Cave Paintings
Aurangabad in Maharashtra
The Ajanta caves, a Buddhist cave complex in the state of Maharashtra, India, are a sequence of 29 caves. The caves were built in two phases, the first group starting around the 2nd century BC, while the second group of caves built around 400–650 AD. According to UNESCO, these are masterpieces of Buddhist religious art that influenced Indian art declared a UNESCO World Heritage site. The Ajanta is a horseshoe-shaped cave around the Waghur river. The Ajanta caves are known for its stunning murals, paintings and sculptures, most of the paintings tell stories of the Jataka tales involving the stages of becoming a Buddha and the life of Buddha.
The paintings from ancient times made using different materials like cow dung and clay, painted in different colours like red ochre, yellow ochre, brown ochre, lamp black, white and lapis lazuli which was imported from Northern India, central Asia and Persia. In the pictorial cycles, all the characters are bright and multi-coloured but are never repeated, a fundamental concept in Indian art. Ceilings, walls and pilasters are all covered with overlapping figures, brought to life by the artists with strong and contrasting colours. Using many different techniques makes this site a perfect place to relive history. The Ajanta cave paintings were done using a technique called Tempera. Most of the paintings tell stories of the Jataka tales involving the stages of becoming a Buddha and the life of Buddha.
Ellora Cave Paintings
Aurangabad in Maharashtra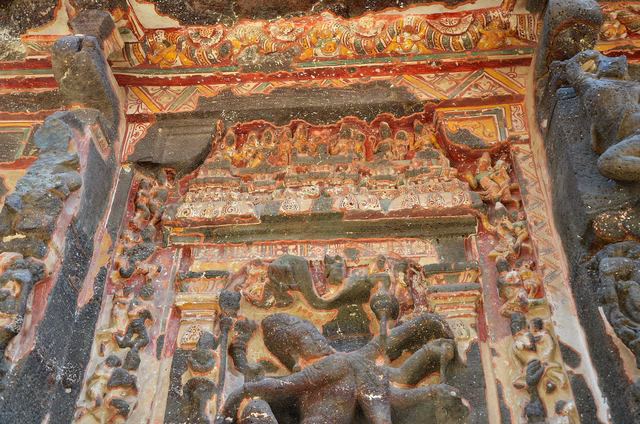 Ellora is famous for Hindu, Buddhist and Jain cave temples built during 6th and 9th centuries. Three ancient Indian religions are housed here. Three arts converge here. The site, spread over a two-kilometre long, it is one of the world's largest rock-cut temple cave complexes with more than a hundred caves. Ellora Cave is an India's Classical masterpiece and a UNESCO World Heritage Site since 1983.
First came the Hindus, then the Buddhists, and lastly the Jains. And they all stayed together until the 13th Century. The Hindus carved out temples and wrapped them with gods and goddesses from its colourful, vibrant pantheon. The Buddhists carved out virahas [monasteries] and chaityagrihas [prayer halls] and decorated them with serene Buddhas and Bodhisattvas. The Jains, meanwhile, carved out sanctuaries and filled them with ethereal details and stories of Tirthankaras from their mythology.
The Ellora Cave preserved as an artistic legacy that will continue to inspire and enrich the lives of generations to come. Not only is this cave complex a unique artistic creation and an excellent example of technological exploit but also, with its sanctuaries devoted to Buddhism, Hinduism and Jainism, it illustrates the spirit of tolerance that was characteristic of ancient India.
Elephanta Cave Paintings
Ellora Island in Maharashtra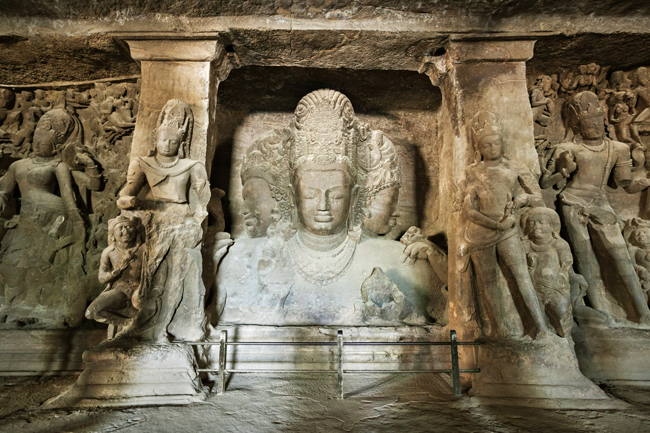 Elephanta Caves located just 10 kilometers into the Mumbai Harbour from the Gateway of India. It was built between the 5th and 8th century C.E. The island and its resident caves received the name 'Elephanta' from Portuguese. Elephanta Cave is home to one of the area's most majestic historic monuments. The five Hindu and two Buddhist caves collectively known as the Elephanta Caves have survived through centuries of habitation, invasion and neglect to still stand and draw in thousands of tourists in present-day Mumbai.
Lenyadri Cave Paintings
Junnar in Maharashtra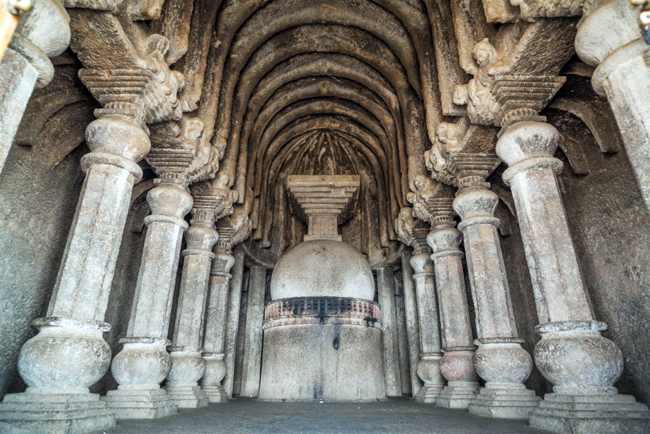 Lenyadri Caves are also referred to as Ganesh Lena and consists of nearly 30 rock-cut Buddhist caves out of which twenty-six caves are numbered individually. Cave 7 which was a Buddhist Vihara originally has been transformed into a Hindu temple that has been dedicated to Lord Ganesha. The Lenyadri Caves can be reached upon climbing 283 stone-cut steps that were constructed around the 19th century. The caves have preserved traces of inscriptions and ancient cave paintings.
Saspol Caves Paintings
Saspol village in Ladakh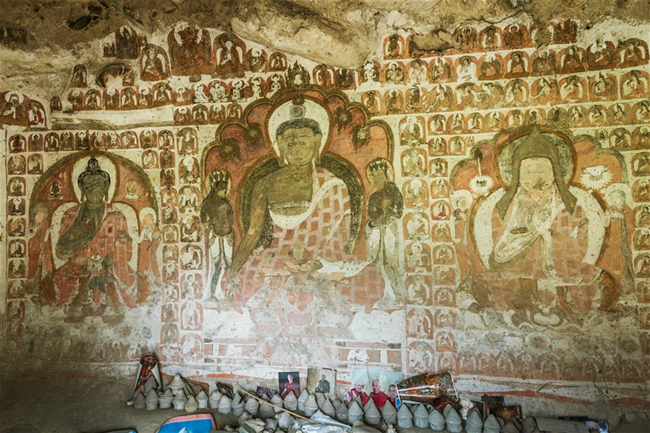 Interior of caves is simple – ceiling, for the most part, has been left without changes, with large boulders perched in the conglomerate. Walls though are plastered with clay and covered with bright colored paintings. Paintings consist of a large amount of smaller miniatures showing the many deities of Buddhist pantheon. Caves have been shaped in the 13th – 15th century AD by the followers of Tibetan Buddhist school Drikung Kagyu, focusing on meditative practice. This school of Buddhism is prominent in Ladakh up to this day while in Tibet it has been replaced by other schools long ago.