10 Uncrowded Places in India to Travel in Corona Times.
The COVID-19 pandemic is a challenging times in which safety remains the top priority, dreaming about a holiday is not that much easy and safe. But, some places in India are the uncrowded and safe places to travel during this pandemic. Here are the 10 safest places to visit in India during this pandemic.
1) Janjheli - Himachal Pradesh
The beautiful Janjehli valley, 67 Km from Mandi, is a calm place. Surrounded by beautiful forests, covered with lush grassland and characterised by a satisfying weather. Janjheli also serves as a base camp for several trekkers and campers on their way to places, such as Shoja, Karsag, Chindi and Shikari Devi. Janjehli is one of the virgin tourist place, where tourists find serene beauty of nature. It is also a paradise for hikers, offering treks up to a height of 3,300 metres. After covering 32 km by a motorable road up to Gohar and rest of the journey is on foot.
2) Khajjiar - Himachal Pradesh
Khajjiar is a hill station located approximately 24 kilometres from Dalhousie. The best entertainment in Khajjiar is to walk around the lake or to go for long walks in the thick pine forests. In winter there is snow which can be up to 910 mm of height. Children enjoy this place because of the freedom of movement and the sloped terrain which permits them to roll down to the lake without getting hurt. Another attraction is horse riding. There is a huge Hanuman Statue and a park. Dense deodars, pines and lush green grassland are specialty of Khajjiar. Since Khajjiar is situated at the base of the Dauladhar mountains, the tourists here can get over all views of the mountains. The Kalatop Khajjiar Sanctuary is a wildlife sanctuary which has a wide variety of flora and fauna. It is densely covered with deodar and fir forest. The place is a favorite spot for picnics and trekking.
3) Lachung - Sikkim's Undiscovered Paradise
Lachung is a beautiful Himalayan village located in Northern Sikkim. The landscape of Lachung is filled with gushing waterfalls, tall and dark mountains, meandering rivers, fruit orchards, and much more. In addition to an richness of natural beauty, visitors can also enjoy a host of outdoor activities such as paragliding and river rafting in Lachung.
4) Shillong Peak - Meghalaya
Shillong Peak is the highest point of Shillong. Complete your trip to Shillong by cherishing panoramic view of the entire city and the Himalayas from Shillong Peak. A telescope is available for tourists to get a bird's eye view. One of the best tourist attractions in Meghalaya, the peak lies 1965m above sea level. Shillong inherited its name from this peak itself. Do spare some time to trek to this peak and wonder how Shillong looks like from such a height.
5) Ziro Valley - Arunachal Pradesh
Ziro Valley is an pleasant holiday destination in North East India which enamour everyone with its mesmeric natural charm splashed with sprawling rice fields, quaint villages and rolling green hills veiled under thick layers of vibrant flora. Ziro Valley is the peace seeker's paradise.
Ziro is a quaint old town in Arunachal Pradesh, home to the Apa Tani tribe and famous for its pine hills and rice fields. The climate in Ziro is mild through the year, making it comfortable to travel all year round. Obviously the Ziro festival of music is a huge highlight, as well as experiencing the Apatani culture and way of life. The place is great for adventure seekers too, whether one is looking forward to a soul-captivating trekking experience, a jungle camping fun or wildlife exploration.
6) Munnar - The Dream Destination in Kerala
Munnar, the popular hill station of south India, is a romantic place where natural beauty is everywhere to visit, explore and to enjoy. Munnar is situated at the interflow of three mountain streams "Muthirapuzha, Nallathanni and Kundala" and the word "Munnar" means three rivers in Malayalam. Virgin forests, savannah, beauty of the rolling hills, scenic valleys, numerous streams, huge splashy waterfalls, evergreen tea plantations, luscious spice gardens, winding trails, and much more, Munnar is one such destination that will fulfil all your dreams and will make your holidays extremely memorable.
Munnar is also known for Neelakurinji, a rare plant which flowers only once in twelve years. The "kurinji season" in Munnar is a magnificent sight when the hills and valleys get bathed in the blue of the Neelakurinji blooms.
7) Chilika Lagoon - Odisha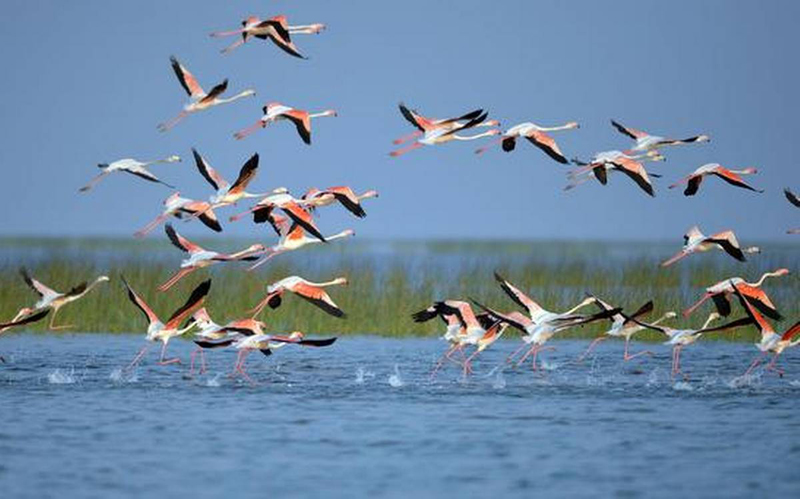 Chilika Lake is the largest brackish water lake with estuarine character that sprawls along the east coast of India. It is considered to be the largest lagoon in India and counted amongst the largest lagoons in the world covering almost 1100 kms. The Lake is a highly productive ecosystem with rich fishery resources.
Chilika Lake emerges as single largest habitat of Irrawaddy dolphins in the world. As many as 155 Irrawaddy dolphins were spotted during a fresh monitoring survey of the Chilika lagoon. It is the largest coastal lagoon in India Abounding with a variety of prawns, crabs and fish, the lake encloses a huge area of marshes, islands and lowlands. Lake Chilika is also home to a large number of migratory birds making it an ideal destination for nature lovers.
8) Khajuraho - Madhya Pradesh
Khajuraho, famous for the temples that are collectively called the Khajuraho Group of Monuments and which is also a UNESCO World Heritage Site, draws a sizeable number of tourists every year. Rulers of the Chandela dynasty were responsible for the construction of these marvelous temples that are renowned for their artistic representations of the Kama Sutra. It is a paradise for tourists with a taste for history or art. The Annual Dance Festival is one of Khajuraho's highlights and is worth visiting. The craftsmen in Khajuraho specialize in replicating the erotic sculptures of the temple walls in stone, iron, and brass, and these are available for purchase.
9) Patnitop - Jammu and Kashmir
Patnitop is a hilltop tourist location in Udhampur district in the Jammu and Kashmir. Patnitop is located in the Lower Himalayan Range close to the Pir Panjal range, 47 km from Udhampur and 112 km from Jammu. Patnitop is known for activities like skiing and trekking as well as water springs, altogether making it a popular tourist destination. Patnitop sits at an altitude of 2024 metres. The river Chenab flows in close proximity to this location. It comprises several meadows enveloped by thick forests of Deodar(Cedar) and Kail(Blue Pine) trees, and affords peaceful walks amidst conifer groves, beautiful spots for enjoyable picnics and breath taking views of the Chenab basin and the Pir Panjal range beyond. Patnitop Other activities include horse rides and short treks into the surrounding hills. Patnitop also draws a lot of tourists when it snows during winters (January-February). The meadows with their gentle slopes are ideal for skiing and sledging. Skiing courses for beginners are conducted here.
10) Mount Abu - Rajasthan
Mount Abu, only a beautiful hill station in Rajasthan. Its cool atmosphere and lush green surroundings make it a major tourist spot. The most important attraction the Dilwara temples, which is one of the most stunning piece of architecture in the country. If architecture is not your choice, then there are various lakes and viewpoints such as the Honeymoon Point, Sunset Point, etc. Tourists enjoy calm and relaxed boating in the Nakki lake, and a view of the sunset from the Sunset point. The highest peak of the Aravali Range also lies in Mount Abu, surrounded by dense green forests. It will offer you a popular and typical destination of a romantic and simpler nature.