Mahabalipuram Pondicherry Beach holiday Package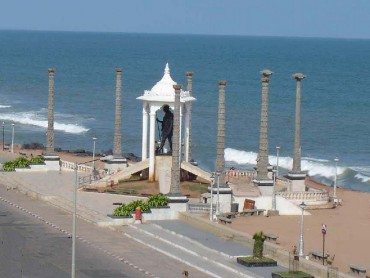 Duration
13 Days - 12 Nights
Destination Covered
Chennai
››
Kanchipuram
››
Mahabalipuram
››
Tiruchirappalli
››
Tanjore
››
Madurai
››
Thekkady
››
Periyar
››
Kumarakom
››
Trivandrum
››
Kovalam
Book / Enquiry
Overview
Golden Triangle Tour offer Tours to Mahabalipuram Pondicherry Beach, South India Beach Tour, Beaches of South India Chennai Mahabalipuram Pondy, South India Mahabalipuram, South India Beaches Travel, Kerala Luxury tours, Tamilnadu Temples
Itinerary Details
Day 01 : Arrive Chennai
Arrive Chennai, the fourth largest city in India, Modern Chennai traces its origins to 1639 AD, when the British East India Company was first awarded a trading post and commenced building Fort St. George, near the sleepy fishing village of Madras Patnam. The rest of your day is at leisure to relax.
Day 02 : Chennai
Tour Chennai, featuring historic as well as contemporary places of interest, such as Victoria Art Gallery, Bronze Gallery and Madras Museum. Continue your drive though Egmore to George Town stopping at Fort St. George, housing the State Parliament. Located within the ramparts of the fort is St. Mary's Church, the oldest Anglican church in Asia, consecrated in 1680 AD. The fort museum features relics of the raj. Drive along Marina Beach, visiting San Thome Cathedral. Kapaleeswarar Temple, devoted to Lord Shiva, where you have an opportunity to devote your prayer and observe the various rituals of Hinduism.
Day 03 : Chennai - Kanchipuram and Mahabalipuram Excursion
Full day Excursion to Kanchipuram and Mahabalipuram. Kanchipuram (58 kms), one of the seven secred cities of India, served as a capital for several dynasties, most prominent among them being the Pallavas and the Cholas, responsible for making the most spectacular temple city of India. Visit three of the best temples - Kailasanatha & Ekambareshwara, dedicated to Lord Shiva, and Vaikuntaperumal dedicated to lord Vishnu. Kanchipuramis also renowned for its silk, a traditional cottage industry art. Continue on to the ancient Pallavan port of Mamallapuram. Later visit the seventh century rock monuments. The shore temple, the only surviving one of seven, is a unique example of a temple built of rock quarried elsewhere and carried to shore.
Day 04 : Chennai - Trichy
After a morning at leisure a short flight brings you to Tiruchirapalli, better known as Trichy. Trichy has a long and checkered history predating Christianity. Several dynasties including the Cholas, Pallavas and the Pandyas reigned over this city in the agriculturally rich basin of the Cauvery river, also known for their patronage of art and architecture, who eventually ruled over Trichy during the 16th century, are responsible for most of what is left standing today.
Day 05 : Trichy
Visit the Srirangam temple complex today. Located on an island in the Cauvery River, it is among the largest in India, covering an area of over 600 acres. The temple is surrounded by seven concentric walls and has twenty-one gopurams or temple towers, one of which is covered in gold. Sri Jambukeshwara Temple, located across from Srirangam, is dedicated to Lord Shiva and has five concentric walls and seven gopurams, Rock Fort Temple. The afternoon is at your leisure and stay overnight at hotel.
Day 06 : Trichy - Tanjore - Madurai
Morning drive to Thanjavur (55 kms/1 hr) the ancient capital of the Chola kings, whose patronage and philanthropy rendered Thanjavur a veritable haven for artists, musician and craftsmen. The dome on the apex of the central tower, 206 feet tall, is a single piece of granite weighing an estimated 81 tons, which was put in place using a ramp 3miles long, similar to the technique used in building the pyramids of Egypt. Later drive to Madurai and upon arrival check-in at hotel for overnight stay.
Day 07 : Madurai
Madurai is a bustling city packed with pilgrims, buisnessmen, bullock carts and rickshaw pullers. It is southern India's oldest center of pilgrimage, visit Shree Meenakashi temple, a riotously baroque example of dravidian architecture. Tirumalai Nayak Palace, build in 1636 in Indo-Saracenic style, and the Gandhi Museam, containing memorabilia of the father of the nation. Overnight at hotel.
Day 08 : Madurai - Thekkady (Periyar)
Southern India continues as your drive to Thekkady (140 kms/31/2 hrs) located on the Tamil Nadu / Kerala border. This unique wildlife sanctuary is about 300 square miles and centered around an artificial lake fed by the Periyar river. Game viewing this afternoon is onboard boats, which carry you along convoluted waterways and afford sightings of elephant, bison, deer and occasionally, tiger. Overnight at Thekkady.
Day 09 : Thekkady - Kumarakom
Game viewing boat cruise this morning, before continuing on to Kumarakom. The state of Kerala, is known for its numerous canals and waterways. Kumarakom (114 kms/3hrs) is a tiny settlement, nestled in the backwaters of Kerala, This part of Kerala offers a variety of therapeutic massages, which are both relaxing and rejuvanating. Overnight at hotel.
Day 10 : Kumarakom
Take a boat ride on the Vembanand Lake to the Kumarakom bird sanctuary. A part of the forest was submerged in the lake, offering an irresistible habitat to both migratory as well as local birds. Waterfowl, cormorants, egrets and teals are seen in abundance. The afternoon is at leisure and overnight at hotel
Day 11 : Kumarakom - Trivandrum (Kovalam)
Drive to Trivandrum (170 kms / 4 hrs), Kerala's capital city and principal seaport. Visit to Napier Museum & Shri Chitra Art Gallery are must. Overnight stay at hotel / Resort.
Day 12 : Trivandrum (Kovalam)
The Trivandrum Museum is housed in an attractive building featuring a collection of bronzes, historical and contemporary ornaments, temple carts, ivory carvings and life-size figures of Kathakali dancers in full regalia. The day is free to enjoy palm fringed Kovalam beach, one of the best of India.
Day 13 : Trivandrum Out
Morning at leisure and later in time fly to onward destination with your international flight. (hotel checkout at 12:00 hrs).