Popular Stepwells in India
Stepwells were built as the water storage systems and also as air conditioning systems in forts and palaces. Many were also a part of religious sites like temples and mosques. Here are the most popular stepwells to visit in India. Stepwells are called Baoli, Vav or Baori in some local languages.
CHAND BAORI
The Chand Baori is a stepwell built over a thousand years ago in the Abhaneri village of Rajasthan. It is most beautiful and the largest stepwells in the world with 13 floors and 64 feet deep, which was built in the 9th century for water harvesting. It has 3,500 narrow steps arranged in perfect symmetry to the bottom of the well. The steps form a magical maze and the consequent play of light and shadow on the structure gives it a captivating look. The stairs encircle the water on the three sides while the fourth side boasts of a pavillion with three storeys with beautiful carved jharokhas, galleries supported on pillars and two projecting balconies enshrining beautiful sculptures.
RANI JI KI BAORI
Rani Ji Ki Baori literally means Queen's Stepwell. It was built by Rani Nathavathi Ji in the town of Bundi in Rajasthan. Bundi is also famously known as the city of stepwells in India. There are around 50 tanks or Baoris in Bundi.
AGRASEN KI BAOLI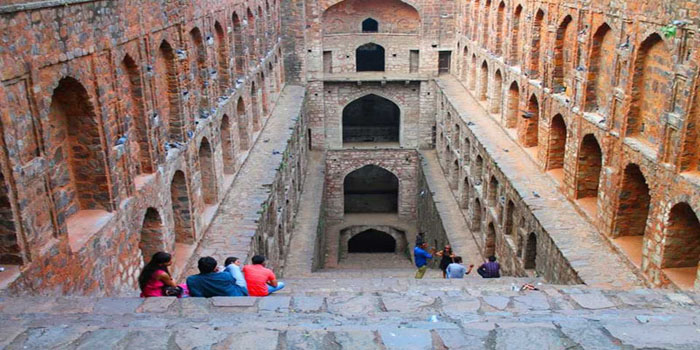 Agrasen Ki Baoli is one of the famous attractions in Delhi. It is 60 mtrs deep, 15mtrs wide and have 103 steps. It was originally constructed by Emperor Agrasen, but it is also believed that it was reconstructed in 14th century.
PUSHKARANIS
The Pushkaranis in Hampi are the sacred water tanks that are attached to the temples. The sacred tanks were related to various rituals and functional aspects of the temples and the people surrounding the temples. The tanks were considered to be sacred places by the people of Hampi in the ancient times. Even today the pushkaranis are a big attraction for the tourists who visit Hampi to explore the ruins of the Vijayanagara Empire.
RANI KI VAV OR RANKI VAV
Rani ki Vav or Ranki vav is a Queen's stepwell. It is situated in the town of Patan in Gujarat state of India. The stepwell is divided into seven levels of stairs which lead down to deep circular well. A stepped corridor is compartmentalized at regular intervals with pillared multistory pavilions. The walls, pillars, columns, brackets and beams are ornamented with carvings. The niches in the side walls are ornamented with beautiful and delicate figures and sculptures.
ADALAJ STEPWELL
Adalaj tank is one of the famous stepwells in Gujarat. It is a five storeyed architecture which was one among the ponds that were built during 5th - 9th centuries. Adalaj is a village which is known for this beautiful water tank. The temperature inside the well is said to be about five degrees lower than the outside hot summer temperatures.