Laddu and Lathmar Holi Barsana - More Than 5000 Years Ago Traditional Holi Celebration of India.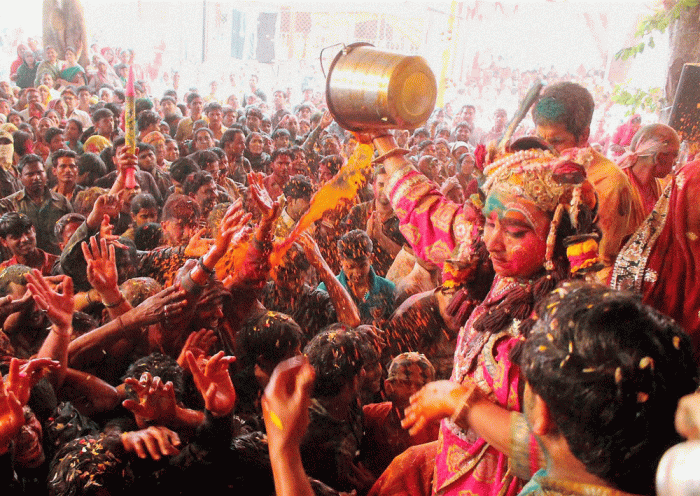 Laddu Holi is the famous celebration of one day before Lathmar Holi at the chief Shreeji temple in Barsana, Mathura. It has special significance in Brij area. The belief behind Laddu Holi played in Barsana is that Radha-Rani's messenger (Panda) from Barsana goes to invite to play Holi in the village of Lord Krishna. After accepting the invitation to play Holi by Lord Krishna and his Gwal people, Panda returns to Barsana and narrates this news. The residents of Barsana are pleased and throw laddus on the panda. Since then, Laddu Holi is played in Barsana a day before Lathmar Holi. On this day, all are welcomed by throwing laddus. Laddus are hurled fiercely from the Shreeji temple. Devotees also looks eagerly to get the laddus in the form of Prasad.
The day of Falgun's Ashtami has special importance in Braj, because on this day 'Laddu Holi' is celebrated with great pomp in Barsana of Mathura. A day before the world famous Lathmar Holi of Barsana, there is a big celebration of Laddu Holi in Ladli temple. A large number of devotees of Radha Rani, who come from all over the country and abroad, celebrate this Laddu Holi in a different way by dancing, singing and throwing thousands tons of laddoos, sweets and gulal on each other. In the world famous temple of Radha Rani located in Barsana, today also it is raining love juice and happiness in the same way that it used to rain here in the Copper Age. Everyone is engaged in celebrating happiness by throwing laddus and feeding laddus on each other and congratulating them.
After the celebration of Laddu Holi, Radhadasi goes with an invitation from Radharani for Kanha to play Rangili Holi. Radhadasi, who lives at Gopal Ghat in Vrindavan, has been doing this work for the last twelve years. Radhadasi inherited this work from her Guru Shyama Dasi. Radhadasi considers herself lucky by doing this work. Devotees thronged to see Radhadasi when Radhadasi passes through the colorful street carrying Bhog Prasad, Itra Phulel and Paan Beeda with a handi filled with Abir Gulal. On reaching Nandgaon, Radhadasi get a grand welcome by the Goswami Samaj there.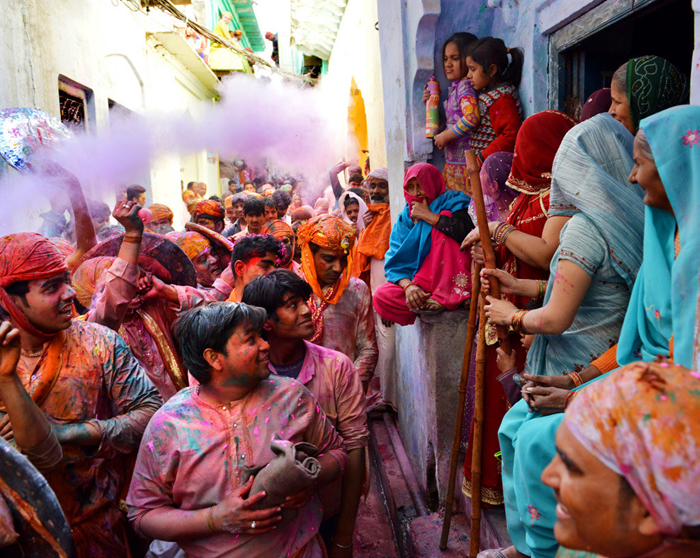 Lathmar Rangili Holi, known in the country and the world for its unique style organized on Falgun's Navami. The Hurriyares of Nandgaon reach Priya Kund at afternoon to play Lathmar Holi where they welcome by the residents of Barsana. On this occasion, they serve cold thandai of cannabis. Swinging in the fun of cannabis, here, by tying their legs, they prepare themselves to face the beating of Lathmar. Huriyare directly reach Ladliji temple from here where there a joint community singing of Goswamis of Barsana and Nandgaon. During the Samaj singing, both the parties would take loving sarcasm at each other. After the community singing, the Hurriyares enter the Rangili Gali. Where Hurriyarin get ready to welcome him with sticks in hand. From Rangili Gali, Huriyaris start showering lathis on Huriyars and Huriyaris would deftly defend themselves and bear the lathi blows on their shields. Lakhs of people gather to see this beautiful sight.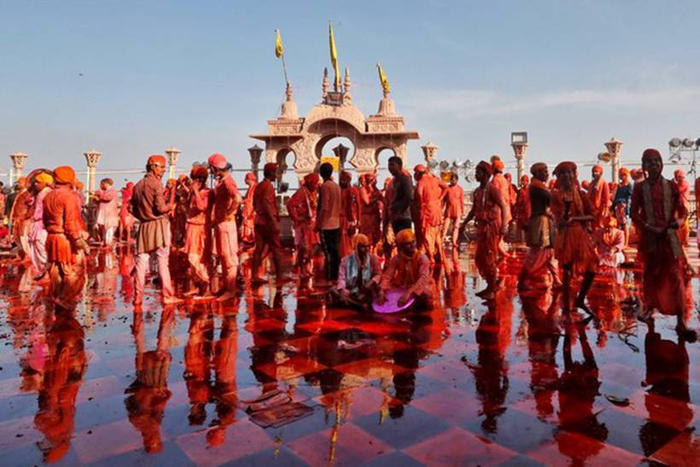 According to mythological belief, in Dwaparyug the mischievous Kanhaiya of Nandgaon used to go to Barsana with his cowherds to play Holi with Radha Rani and other Gopis and harass them. Radha ran behind Kanha and his cowherds with a stick to teach a lesson to Kanha while joking. Following this tradition, every year in the month of Phalgun, the women of Barsana and the men of Nandgaon play Lathmar Holi. The men of Nandgaon play colorful Holi with huriyars with sticks tied around the waist with Kanha's The next day the same event is organized in Nandgaon. The people of Nandgaon and Barsana have faith. It is said that this tradition started more than five thousand years ago and women playing the role of Radha Rani.
Dates of Laddu & Lathmar Holi 2023
27 Feb 2023, Monday
Laddu Holi : Sriji Temple, Barsana
28 Feb 2023, Tuesday
Lathmar Holi : Priya Kund, Barsana
01 March 2023, Wednesday
Lathmar Holi : Nand Bhawan, Nandgaon