Palace on Wheels
The luxury train of India
Veronica Di Pilla
The luxurious Palace on Wheels train takes you on a sparkling journey to the royal land of sand dunes and royal palaces. Voted the fourth best luxury train in the world, the Palace on Wheelsse blends perfectly with the majestic charm and beauty that spreads across Indian terrain.
In 7 nights and 8 days the train traverses over 3,000 kilometers. The journey into the desert starts from New Delhi and crosses Jaipur-the pink city, the Ranthambhore tiger reserve, Fort Chittorgarh Hill, Udaipur-the city of lakes, Jaisalmer-desert oasis, Jodhpur-heart of Marwar , the Bhatarpur Bird Sanctuary, Agra - city of the Taj Mahal.
The train is completely self-sufficient and air-conditioned. Each cabin has integrated bathrooms, all modern comforts such as Wi-Fi, mini pantry, music channel, safe, etc. There is also a personal butler at your service - also known as khidmatgars - and there are 2 restaurants, a lounge bar and a spa.
The carriages are named after the famous Rajasthan Palace and Forts. The rich interiors of the cabins are in shades of ruby, turquoise, or pearl.
Train history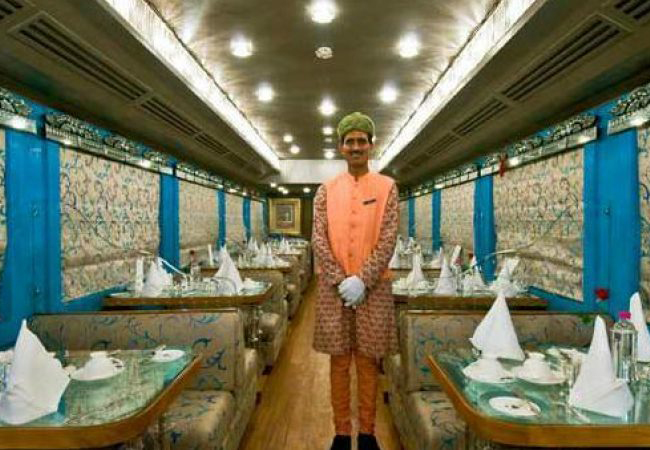 After India gained independence in 1947, all royal wagons were no longer used, as it was not feasible to include them in normal passenger trains due to their valuable interior furnishings of the train which required a high cost of maintenance. Therefore, with the aim of promoting tourism in Rajasthan and providing world travelers with a real traveling experience, Palace onWheels was launched in January 1982. The reason was obviously to promote tourism on the train and preserve the private. A few years after its creation, the train caught world fantasy and received the PATA Gold Award in 1987. The rulers of the princely states of Rajputana, Gujarat, the Nizam of Hyderabad, and the Viceroy of British India traveled on these luxurious coaches.
Rates
The price during the high season (from October to March) for 7 nights of traveling in a cabin on this luxury train varies from $ 7,000 US to $ 13,860 per person for holders of foreign passports. The price during the low season (valid for two months in April and September only) varies from $ 5,600 US to $ 12,600 US for each person.