Kala Ghoda Arts Festival 2023
The Kala Ghoda Arts Festival is an annual exhibition and celebration of visual arts, cinema, dance, theatre, music, films, comedy, workshops, literature, urban design, architecture, food and heritage walks. It is held every year in the historic Kala Ghoda Art District, Mumbai and attracts over 150,000 people from the city and beyond.
The Kala Ghoda Arts Festival is a 9-day event starting from February 5 and ending on February 13. February 14 also marks a cherished ending to the popular Valentine's week. Kala Ghoda Arts Festivals started in 1999, since then it has become the largest multicultural festival in Mumbai.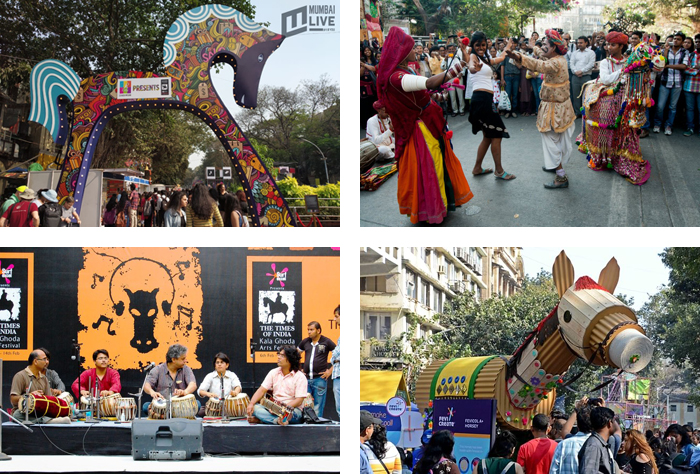 This festival has moved to a different beat, inviting poets, painters, dancers, artists, musicians and craftsmen to unite as an community, reaching out to a city starved of cultural events.
For the people of Mumbai the Kala Ghoda Art Festival offers an opportunity to step outside, broaden their horizons, talk, enjoy and celebrate. This art festival is a carnival-like ambience including with its mime artists, open-air music-dance performances, street food and pavement art.
This year, the festival offers a whopping 400 events and 50 art installations, all packed into nine days. It's even more special because of the introduction of an all-new segment - Urban Design and Architecture. This new segment, visitors will see interesting architectural installations on Rampart Row, created by prominent architects and students of architecture.
Categories To Enjoy - Kala Ghoda Arts Festival 2023
Kala Ghoda Arts Festival 2022 Dates & Timings:
Dates: 5 February 2023 to 13 February 2023
Timings: Daily, 10:00 AM to 10:00 PM
Kala Ghoda Arts Festival Venue:
The festival takes place within the historic Kala Ghoda Art Fort. It welcomes everyone and has exquisite things to offer. The subdivided district is in South Mumbai.
Entry Fee for the Kala Ghoda Arts Festival:
There is no entry fee for the festival. Anyone is welcome into the celebrations free of cost.
-----------------------------------------------------------------
CALLING APPLICATIONS
FOR STALLS AT KGAF 2023
(Last date for applications 10th October, 2022)
For any queries:
Write to kgafstalls@gmail.com or
message +91 9140165788 (whatsapp only)