Oktoberfest 2023 - World's Largest Celebration of Bavarian Culture.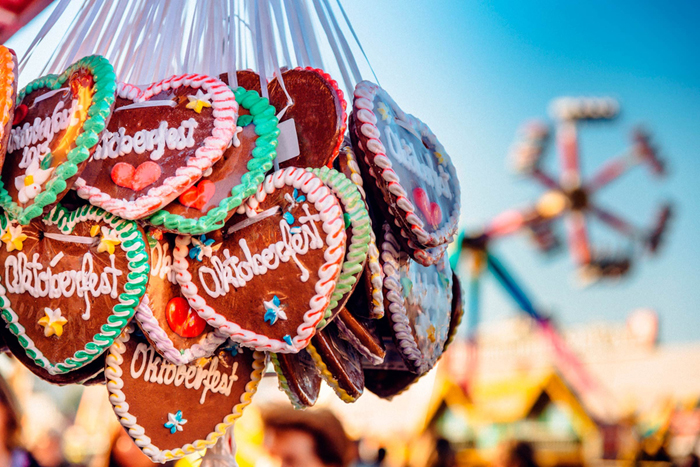 Oktoberfest is the world's largest celebration of Bavarian culture in Munich, Germany. The area of Bavaria being the southeast corner of Germany famous for beers, brats, and its use of bustiers. Millions of visitors travel thousands of miles to Munich each year to experience their share of the 2-week long festival. It is held annually in Munich, running from mid-or late-September to around the first Sunday in October. Oktoberfest in Munich takes place on the Theresienwiese as it has for over 200 glorious years. The Theresienwiese is the large field where the first-ever October 12, 1810 Oktoberfest – aka the wedding celebration between Prince Ludwig and Princess Therese - went down. Other cities across the world also hold Oktoberfest celebrations that are modeled after the original Munich event.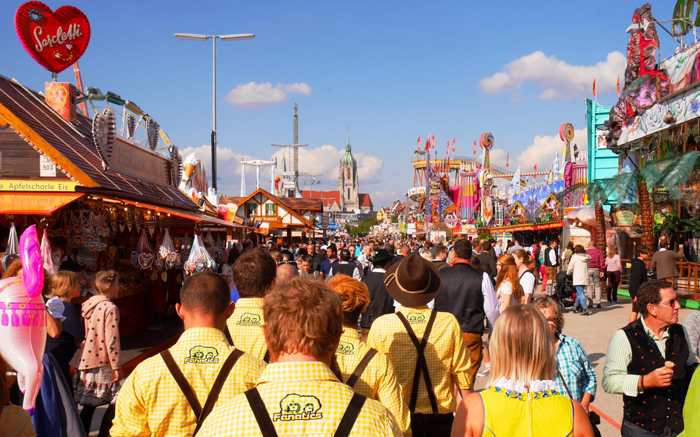 To honour the marriage of Prince Ludwig and Therese of Saxe-Hildburghausen, a parade took place for the first time in 1810. Since 1850, the parade has become an annual event and an important component of the Oktoberfest. Eight thousand people—mostly from Bavaria—and dressed in traditional costumes walk from Maximilian Street through the centre of Munich to the Oktoberfest grounds. On that first day of Oktoberfest in September, Oktoberfestivities begin promptly at noon but only after the Lord Mayor of Munich taps the first keg and shouts, "O'zapft is!" From there, Oktoberfest typically runs from 10 am - 11:30 pm on weekdays and from 9 am - midnight on weekends.
The beer served in the Oktoberfest beer tents is a traditional Marzen-style lager whose actual style is called "Oktoberfest". It's made exclusively for the festival and with strict adherence to the Reinheitsgebot Purity Law. Each of the six breweries makes their own and each beer tent serves only one kind. In the Hofbräu tent it's Hofbräu Oktoberfest. In the Paulaner tent it's Paulaner Oktoberfest. Beer at Oktoberfest is sold exclusively by the litre in mugs known as maß (or mass). Oktoberfest beers clocking in at 6% ABV, they contain a lot more alcohol than you think. In addition to beer, you can also find radler 1/2 beer + 1/2 lemon lime, soda, kinda like a shandy, wine, soda and other non-alcoholic beverages, and mixed drinks in some tents.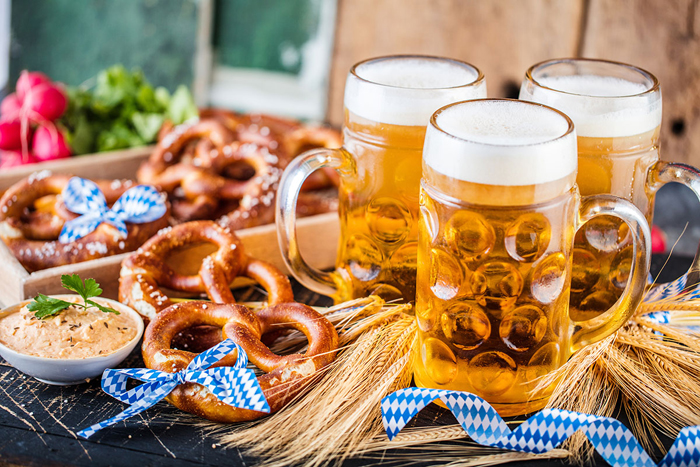 Oktoberfest Food is well, it's almost indescribable in its goodness. Oktoberfest beer tents stick to traditional Bavarian cuisine that will be some of the best food you've ever had. Some of the biggest sellers are roasted half chickens, pork knuckles, oxen and bratwursts of all kinds , all served with the greatest sides this side of Heaven—sauerkraut, red cabbage, potato dumplings, potato salad. And you can't forget about the most popular Oktoberfest food of all - a Bavarian soft pretzel the size of your face. But the most important thing to remember about Oktoberfest food is it needs to be eaten!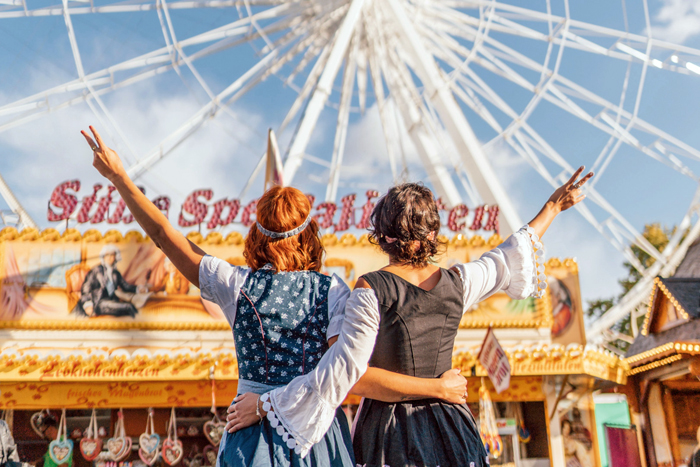 Traditional Bavarian attire is always welcomed and appreciated, regardless of how German you are. Dirndls and lederhosen may quickly come to mind as traditional German clothing. These outfits originated in Bavaria. A dirndl is a traditional attire for the ladies. Dirndls consist of a long-ish dress over a white blouse and an apron, tied appropriately. Dirndls come in all colours, patterns, designs, cup-sizes, and look great on every single body. Lederhosen are breeches worn by men, typically made of leather from cows, goats, or deer. They include suspenders worn over the shoulders and connected in the front by a decorative crosspiece. Lederhosen are often complemented by knee-high socks, leather shoes, a checkered shirt, and a jacket.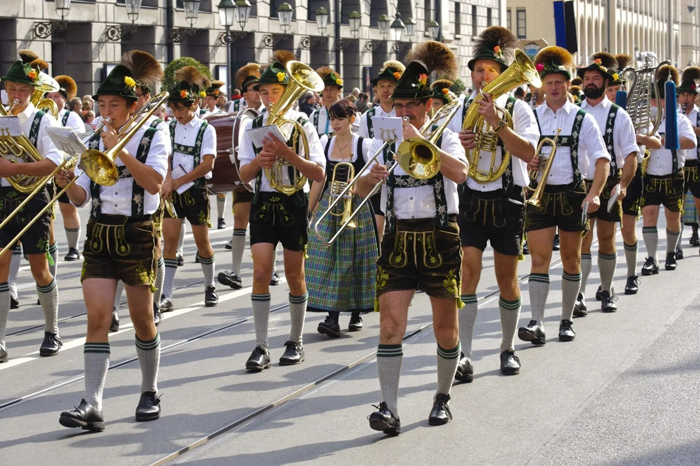 Oktoberfest is not limit just beer, pretzels, and polka is so much more parades, celebrations, and shooting competition. Oktoberfest is a celebration of Bavarian life and history and there's no better way to be reminded of this than to experience one of the festival's parades. There's the opening day parade featuring the famous horse-drawn beer carriages and led by the Münchner Kindl, and the traditional costume parade featuring over 10,000 participants. Don't miss out on the massive outdoor concert of brass bands and traditional alphorns at the feet of the Bavaria statue. And especially don't miss the gun salute marking the end of Oktoberfest featuring the winners of the Oktoberfest crossbow shooting competition. The closing ceremony happens just before closing time on the last night of Oktoberfest inside the Hacker-Pschorr tent. Sing along with 10,000 of your closest friends, wave sparklers in a darkened tent, and just go ahead and start counting down until next year.