Chitrakote Waterfall - Niagara Falls of India
Chitrakot Waterfall is a beautiful and natural waterfall situated on the river Indravati in Bastar district of Chhattisgarh state of India. Chitrakote is also spelled Chitrakot and Chitrakoot. The height of the falls is about 95 ft (29 metres). It is the widest fall in India, reaching a width of nearly 980 ft (300 metres) during the monsoon season. Due to the similar shape of horse feet, this fall is also called "Niagara Falls of India".
Chitrakoot waterfall is very beautiful and the tourists like it very much. A large water body falling in the middle of the strong trees and Vindhya ranges, which falls from this water fall, attracts tourist's attention. This waterfall has also gained fame as a major picnic spot. Local boat facilities operating below and under the falls in a misty atmosphere provide views of the falls under an early morning sun in reflected sunlight and in a blue hue.
On the banks of the pond below the falls many small Shiva Lingas (aniconic symbols of the god Shiva) and the trident weapon of Shiva mostly in a rusted state are found in several niches. On the left bank, there is a rock ledge and climbing down this cliff leads to a naturally formed niche which houses stone slabs carved with deities. The specialty of this waterfall is that during the rainy days, this water is reddish, it looks absolutely white during the summer moonlight night.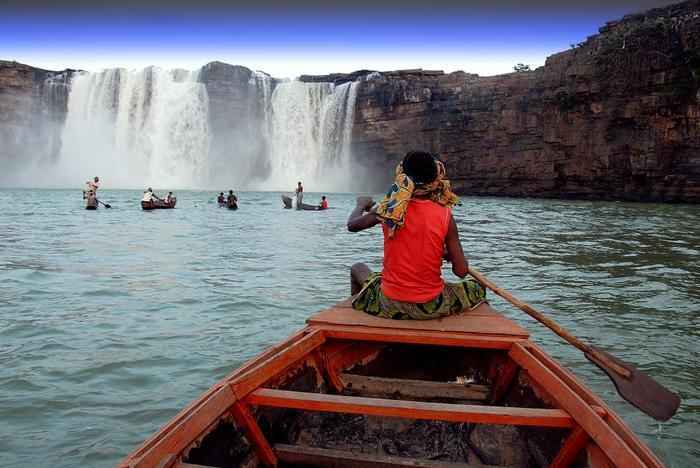 The beauty of the falls can be seen throughout the year, particularly during sunset.The weather in the area is generally pleasant except in the summer season. As the fast-flowing water of the river flows over the sharp near-vertical rock exposure at the widest reach of the river, it generates misty clouds and then hits into a pond formed in a semicircular shape at the bottom of the falls. Adventure sports enthusiasts use boats in the stormy part of this pond. Pilgrims bathe in the calmer part of the lake. In the low-flow season paddle boats are used in pools formed in the upstream part of the falls. In the pool below the falls, swimming and paddle boats are permitted. Below the falls the river traverses the Bodhghat forested area and the river regime undergoes a drastic change in its flow conditions.
The waterfall is located at a distance of 40 km from Jagdalpur Railway Station and 273 km from Raipur Airport. Prepaid taxis are easily available from the Raipur Airport and Jagdalpur Railway Station. Regular bus services express or sleeper ply to and fro the city of Jagdalpur.