Swaminarayan Akshardham is a Hindu temple and spiritual-cultural campus in New Delhi, India. The complex displays millennia of traditional and modern Hindu culture, spirituality, and architecture. it was constructed by BAPS. The temple was officially opened on 6 November 2005 by Pramukh Swami Maharaj. The temple was built according to the Vastu shastra and Pancharatra shastra at the centre of the complex.
In Swaminarayan Akshardham New Delhi the main shrine is the focal point and maintains the central position of the entire complex. There are various exhibition halls which provide information about the life and work of Swaminarayan. The designers of the complex have adopted contemporary modes of communication and technology to create the various exhibition halls.
The complex features Swagatam - The Welcome Gate, Mandir, Abhishek Mandap, Narayan Sarovar, Sahaj Anand water show, Thematic Garden and three exhibitions namely Sahajanand Darshan (Hall of Values), Neelkanth Darshan (an IMAX film on the early life of Swaminarayan as the teenage yogi, Neelkanth) and Sanskruti Darshan (cultural boat ride). According to Swaminarayan Hinduism, the word Akshardham means the abode of Swaminarayan and believed by followers as a temporal home of God on earth.
SWAGATAM – THE WELCOME GATE
A pilgrimage at Akshardham begins at the Ten Gates – signifying ten directions – and continues as visitors pass through the Gate of Devotion, the Visitor Center and the Peacock Gate to arrive at the Charnarvind (Holy Footprints). Along the way, traditional Hindu symbols of positivity, devotion, beauty and purity create a divine ambience. Each visitor delves into the experience of Akshardham infused with the energy of this auspicious beginning.
MANDIR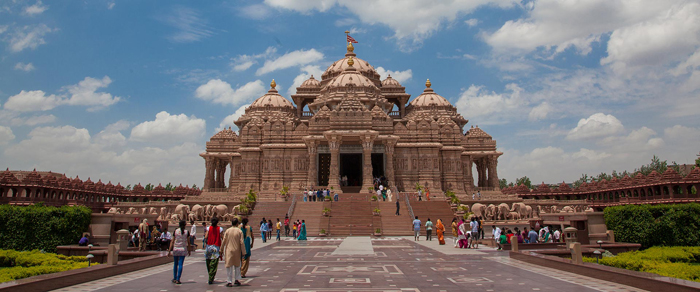 The main attraction of the Swaminarayan Akshardham complex is the Akshardham Mandir. It rises 141ft (43 m) high, spans 316 ft (96 m) wide and extends 356 ft (109 m) long. It is intricately carved with flora, fauna, dancers, musicians and deities. It is entirely constructed from Rajasthani pink sandstone and Italian Carrara marble. Based on traditional Hindu architectural guidelines "Shilpa shastras" it makes no use of ferrous metal. Thus, it has no support from steel or concrete.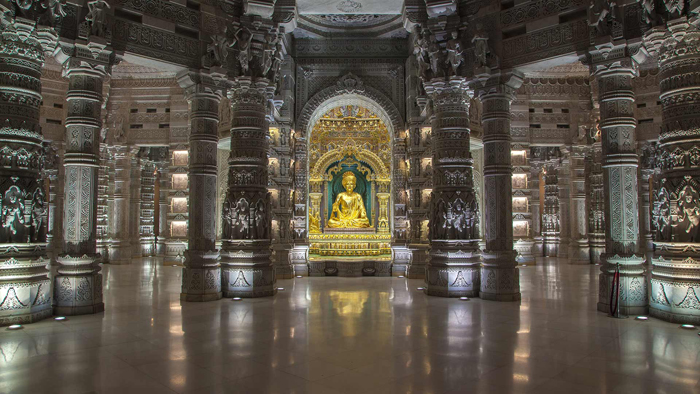 Under the temple's central dome lies the 11 ft (3.4m) high murti of Swaminarayan seated in abhayamudra to whom the temple is dedicated. Swaminarayan is surrounded by images of the faith's lineage of Gurus depicted either in a devotional posture or in a posture of service. Each murti is made of paanch dhaatu or five metals in accordance to Hindu tradition. The temple also houses the murtis of Sita Ram, Radha Krishna, Shiv Parvati, and Lakshmi Narayan.
The mandir also consists of 234 ornately carved pillars, nine domes, and 20,000 murtis of swamis, devotees and acharyas. The mandir also features the Gajendra Pith at its base, a plinth paying tribute to the elephant for its importance in Hindu culture and India's history. It contains 148 life sized elephants in total weighing a total of 3000 tons.

It is an ancient Hindu tradition to perform pradakshinas or circumambulations as a sign of respect and prayers. The faithful walk clockwise around mandirs to reinforce the belief that God should be the center of one's life. At the Akshardham mandir, the path for performing these circumambulations is embellished with three 60 feet long bronze relief panels. These panels illustrate divine incidents from the life of Bhagwan Swaminarayan and help the faithful walking these paths to remember God. The layer of the mandir where these panels are installed is known as the Narayan Peeth.
ABHISHEK MANDAP
Abhishek is the ritual bathing of a deity for the fulfillment of one's prayers. The worshiper pours water over the deity amidst the chanting of prayers and mantras. Visitors can perform abhishek of the murti of Neelkanth Varni - the youthful, yogic form of Bhagwan Swaminarayan. This ritual bathing of the murti is a uniquely participatory ritual, open to all visitors. An abhishek is most commonly accompanied by prayers for wish fulfilment.
NARAYAN SAROVAR
Since Vedic times, India has a glorious tradition of respecting rivers, lakes and stepwells. Following this tradition, a sacred water body, Narayan Sarovar, surrounds the main Akshardham mandir. Narayan Sarovar contains the holy waters of 151 rivers and lakes sanctified by Bhagwan Swaminarayan, including Manasarovar, Pushkar Sarovar, Pampa Sarovar, Indradyumna Sarovar, Manikarnika Ghat, Prayag Triveni Sangam, River Kshipra, Rivers Ganga and Yamuna and many others. On the outer wall of the mandir are 108 bronze gaumukhs, symbolizing 108 names of God, from which holy water spouts forth.
THEMATIC GARDENS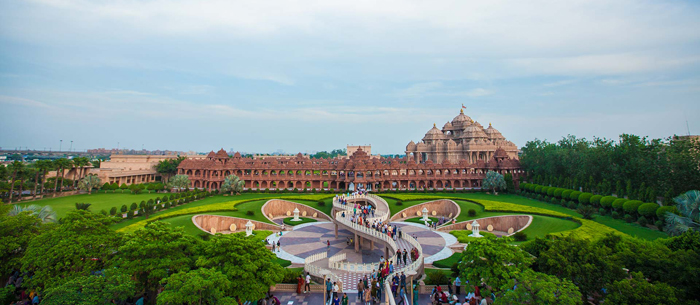 The Akshardham campus has two gardens "Bharat Upavan" and "Yogi Hriday Kamal". Both the gardens help visitors relax while exploring national history and international learnings. Bharat Upavan exudes a magnificent natural and cultural ambience through its green gardens and bronze statues of some great role models of India. India's child gems, valorous warriors, freedom fighters, great women and other national figures inspire visitors with values and pride for our great nation. The Yogi Hriday Kamal is a lotus shaped garden which brings to us the wisdom of great leaders, from around the world and across time. It is named in honour of Yogiji Maharaj, the fourth divine successor of Bhagwan Swaminarayan and the guru.
SAHAJANAND DARSHAN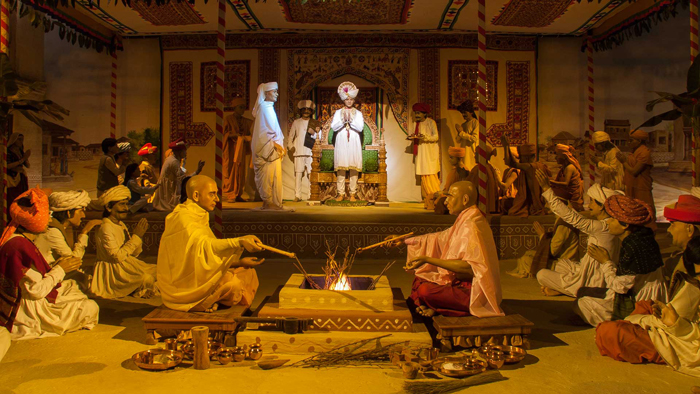 Sahajanand Darshan (The Hall of Values) features lifelike robotics and dioramas which display incidents from Swaminarayan's life portraying his message about the importance of peace, harmony, humility, service to others and devotion to God. The audience experiences eternal messages gleaned from ancient Hindu culture such as non‐violence, vegetarianism, perseverance, prayers, morality and family harmony through 3-Dimensional dioramas using state of the art robotics, fibre optics, light, sound effects, dialogues and music. The hall also features the world's smallest animatronic robot in the form of Ghanshyam Maharaj, the child form of Swaminarayan.
NILKANTH DARSHAN
Nilkanth Darshan in the theatre house which is Delhi's first and only large format screen measuring 85 ft (26 m) by 65 ft (20 m). The theatre shows a 40-minute film specially commissioned for the complex "Neelkanth Yatra" to recount a seven-year pilgrimage made by Swaminarayan during his teenage years throughout India. Mystic India, an international version of the film produced by BAPS Charities was released in 2005 at IMAX theatres and giant screen cinemas worldwide. A 27 ft (8.2 m) tall bronze murti of Neelkanth Varni is located outside the theatre.
SANSKRUTI VIHAR

Sanskruti Vihar is a 12 minute boat ride presents the lifestyle of the Vedic era more than a thousand years ago. It also shows the contributions of Vedic Indians to various fields such as science, astronomy, arts, literature, yoga, mathematics etc. Board a boat and visit the world's oldest university Takshashila classroom, watch an eye surgery happening more than a thousand years ago, view a Vedic marketplace, science of Ayurveda, Bhakti movement, horse riding and warfare.
SAHAJ ANAND WATER SHOW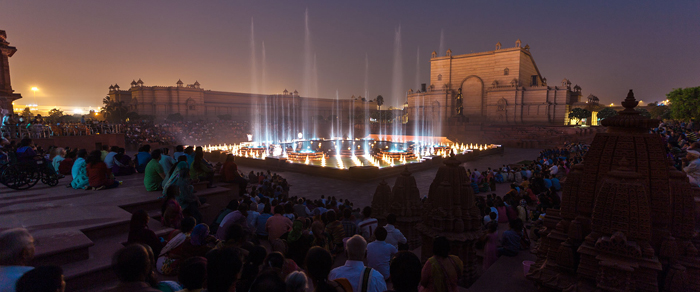 The Sahaj Anand Water Show is a breathtaking 24 minute presentation which unites a variety of intriguing media to bring to life a story from the Kena Upanishad. Multi-color lasers, video projections, underwater flames, water jets and surround sound in symphony with lights and live actors produce a captivating and inspiring presentation. International experts contributed their expertise with BAPS volunteers and sadhus to produce this one-of-a-kind presentation.
The Sahaj Anand Water Show also known as the Yagnapurush Kund, is India's largest step well. it measures 300 ft x 300 ft. It features a very large series of steps down to a traditional 'yagna kund'. During the day, these steps provide rest for the visitors to the complex and at night, a musical fountain show named Sahaj Anand.
ENTRY & TIMINGS
Tuesday to Sunday (Closed: Every Monday)
First Entry: 10:00 am - Last Entry: 6:30 pm
MANDIR
Darshan: 10:00 am - 8:00 pm
Arti: 6:00 pm
ABHISHEK MANDAP
Darshan & Puja: 10:00 am - 8:00 pm
EXHIBITIONS Ticket Window
1:00 pm to 6:00 pm (Tues. to Fri.)
11:00 am to 6:00 pm (Sat. & Sun.)
GARDEN
Timings: 9:30am to 7:00pm.
Garden Entry closes at 6:30pm.
SAHAJ ANAND WATER SHOW
After Sunset (Currently 7:15 pm)
Maha Arti: Before First Show
FACILITIES
Parking
Cloak Room
Lost and Found
Telephone Booth
ATM
Wheelchairs
Restrooms
Food Court
ENTRY FEE
Entry to the Mandir Complex includes Welcome Gates, Visitor Center, Holy Footprints, Gajendra Pith, Narayan Sarovar, Bharat Upavan, Yogi Hriday Kamal and Mandir Darshan is absolutely FREE and requires no prior appointment. All our volunteers and staff's assistance is also free of charge.
EXHIBITION TICKETS
(Includes Sahajanand Darshan, Neelkanth Darshan & Sankruti Darshan)
Adults (Age 12+): ₹ 250
Seniors (Age 60+): ₹ 200
Children (Age 4 - 11): ₹ 150
Children (Below Age 4): Free
WATER SHOW TICKETS
Adults (Age 12+): ₹ 90
Seniors (Age 60+): ₹ 90
Children (Age 4 – 11): ₹ 60
Children (Below Age 4): Free
ABHISHEK DONATION
Per person: ₹ 50
(Darshan – Free)
HOW TO REACH AKSHARDHAM NEW DELHI
The nearest metro station to Akshardham Temple is the Akshardham Mandir Metro Station itself. The station runs along the Blue Line. Take a Cab, Auto, Bus or Metro when you are travelling from New Delhi Railway Station and Airport to Akshardham Temple.