Sri Veeranarayana Swamy Temple Belavadi - Largest Hoysala Architecture's Hindu Temples.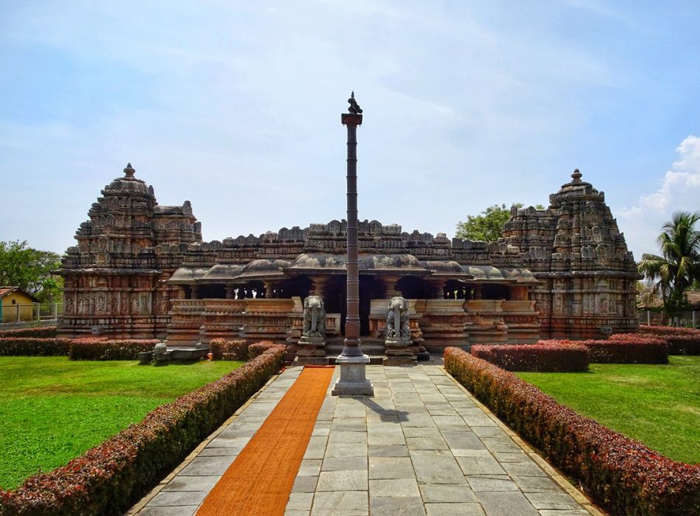 Sri Veeranarayana Swamy Temple is a Hindu temple with a complex Hoysala architecture in the small village of Belavadi, Chikkamagaluru district of Karnataka, India. The temple has three separate square sanctums connected through an unusually large square ranga-mandapa (103 feet). The temple is actually dedicated to three forms of Lord Vishnu, Lord Veeranarayana in the centre facing East, Lord Venugopala facing North and Lord Yoganarasimha facing South. The temple was likely expanded in stages before it was damaged in the 14th-century, and some features added to protect it from further destruction. The Veeranarayana temple is a nationally protected monument of India, managed by the Archaeological Survey of India Bengaluru Circle.
This ornate three shrined temple was built in 1200 C.E. by Hoysala Empire King Veera Ballala II. The material used is Soapstone to build the temple. Each of the three shrines has a complete superstructure (tower on top of shrine) and is one of the largest temples built by the Hoysala kings. While the famous temples at Belur and Halebidu are known for their intricate sculptures, this temple is known for its architecture. The notable features of this temple include its exquisitely ornamented Vesara superstructures (shikara) with jewelry-like details. Inside are the finely polished galaxy of pillars, some banded as if they are wearing jewels. The ceilings too are unusual panels of figural tableaux depicting Hindu legends about Krishna.
This temple gives a chance to the visitors to get to know how the Hoysala style towers of the temples would be. Two stone elephants with broken tusks, legs bent with the strain at the entrance, seem to be pulling the entire structure of the temple. A pillared hall then opens into a courtyard housing the beautifully sculpted temple with its shape accentuated by a colourful hedge at its periphery. With a traditional flag post, glossy black ornamented pillars line the main hall leading to the trikuta (three towers) layout. The pillars are round, huge and hard to give a complete hug to some of them. The ceilings are exquisitely carved, some have geometric patterns and others have figures of Gods. The temple is open from 6 AM to 9 PM.
The nearest railway stations are Kadur and Birur. The nearest airport is Mangalore airport, but the one with the best connectivity would be Bangalore international airport. There are two different routes by road to approach the temple from Bangalore. Both of them take about 4 to 5 hours for the one way trip (about 230 kms or so).