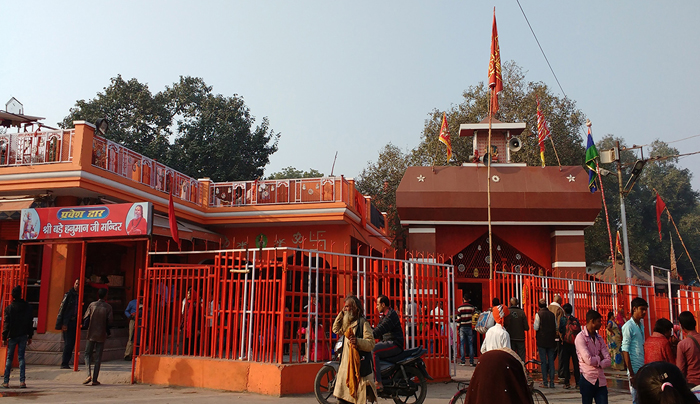 Shri Bade Hanuman Ji Temple, also called Lete Hanuman Ji Mandir, lies adjacent to eastern wall of Allahabad Fort and close by Triveni Sangam. Bade Hanuman Mandir is a famous Hindu temple located in Prayagraj, Uttar Pradesh, India. The temple having a life-size statue of Lord Hanuman lying on the ground with head northwards & legs southwards. This Hanuman temple is the only temple in the world where the reclining idol of Lord Hanuman is worshipped. Temple attracts a large number of pilgrims round the year. The devotees regularly gather in sizeable number at Bade Hanuman Ji on every Tuesday and Saturday. During Magh Mela, Ardha Kumbh Mela and Kumbh Mela millions of pilgrims take holy dip in the confluence of Ganga, Yamuna & invisible Saraswati. It is believed that the virtue of taking a bath in the Maha Kumbh is considered complete after the darshan of Hanuman ji in this temple. The idol of Lord Hanuman is unique in many ways. Hanuman Ji is depicted having Ram & Laxman on left hand, a mace (गदा) on the right hand, Ahirawan pressed under the right foot and Kamada Devi of Patalpuri under the left foot.
It is said that the water of the Ganges touches Lord Hanuman and after that the water of the Ganges recedes. When the water in Ganga and Yamuna rises, people from far and wide come here to see this sight. The idol of Hanuman ji is installed in the sanctum sanctorum of the temple which is 8.10 feet below the temple. According to belief, Hanuman ji's bath in the Ganges is considered an indicator of good fortune for the land of India. The entry of water into the temple is considered auspicious for Prayag and the whole world. It is believed about the establishment of the temple that once a merchant was carrying the grand idol of Hanuman ji in his boat. When he reached near Prayag with his boat, his boat slowly started getting heavy and drowned in the water of Ganga ji after reaching near Sangam. After some time, when the stream of water of Ganga ji changed its path. So that idol appeared. The temple was established at the same place. Hanuman ji is also called Kotwal of Prayag.
It is said that the story of Hanuman ji's rebirth is attached behind this statue. According to the information, when Bajrang Bali after conquering Lanka was suffering from immense pain and reached the point of death, then mother Janaki gave him her vermilion at this place and blessed him with a new life and to remain healthy and alive forever. Devotees coming to this temple donate vermilion to Bajring Bali since Maa Janaki was given vermilion. It is considered very auspicious. Along with this, Maa Janaki had also said that whoever comes to Sangam Snan on this Triveni beach will get the real fruit of Sangam Snan only when he sees Hanuman ji. It is also said about this temple that in 1400 AD, when Aurangzeb was ruling in India, he tried to remove this statue from here. For this, he had employed 100 soldiers, but even after many days of hard work, he could not move the statue. Any devotee who prays in this temple with a true heart, his wish is definitely fulfilled. Devotees come here every Tuesday and Saturday after the fulfillment of their vow, in the form of a procession with music and music to hoist the flag.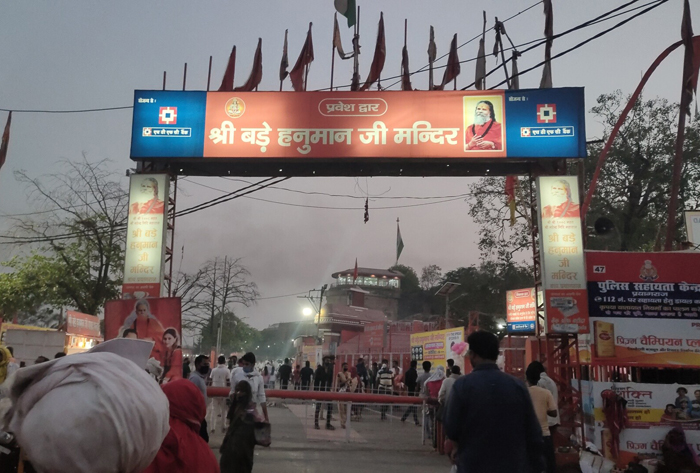 The statue was discovered by a great saint Baghambari Baba when he had come several centuries ago to participate in Kumbha Mela. The statue had been unearthed when the digging was done as per a dream to the saint. Since then Baghambari Baba lived on the banks of the Sangam. The temple is managed by Baghambari Gaddi, associated with Niranjani Akhara. Baghambari Gaddi Math still exists on a vast tract of land in Bharadwajpuram. Several religious rituals are performed everyday by the priests - one and a quarter kilogram sindoor (vermilion), ghee & jasmine oil are applied on the idol to be bathed with cow milk & Ganga water before 5 AM. Devotees offer flowers, 'tulsi', red cloth, sweets etc to the deity. It opens at 5 AM daily with 'Mangal Aarti', remains open till 2 PM for the visitors, reopens with 'Shringar Aarti' at 5 PM and remains open till 8:30 PM.
Visiting Information
Address:
Bade Hanuman Mandir, Prayagraj, Uttar Pradesh - 211005
Best Time To Visit:
October to March is the best time to visit Hanuman Temple.
Nearest Railway Station:
Allahabad Junction at a distance of about 6.4 kms from Hanuman Mandir.
Nearest Airport:
Bamrauli Airport is at a distance of about 16.9 kms from Hanuman Mandir.
Other Name of this Temple:
Bade Hanuman Ji Mandir, Patra Hanuman Ji Mandir.