Oberoi Raj Vilas - 5 Star Luxury Luxury Lodge in Goner Road Jaipur
Classification
5 Star Luxury
Hotel Type
Luxury LodgeBusiness HotelsJungle Nature LodgeChain Hotels
Location
Goner Road
,
Jaipur
,
Rajasthan
Golden Triangle Tour offer Wireless internet connection in all rooms and public areas, State Arts Center 24-hour business full service, Oberoi Spa Fitness Photo Service Facilities for meetings and conferences, Outdoor & indoor Pool (selected) Salon beauty parlour, beverage shroud box, electronic security, Heliport, Spacious rooms in all security and safety measures. One of the best luxury royal hotel in Jaipur.
Description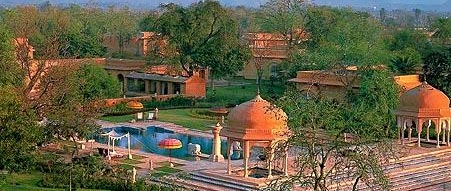 Set on a princely oasis of thirty-two acres of beautiful, exotic gardens and pools right sources in the heart of Rajasthan, the Oberoi Rajvilas must be the perfect way to experience the palatial treasures of Jaipur.
Thirty minutes by car from Jaipur Airport and just 8 kilometers from the famous pink city, Rajvilas is a palace in itself with ornate arches, colonnades, pillars, reflective divine, fresh and beautiful interiors tented ceilings hung with silk pools.
In Rajvilas one can relive the form of gracious living of the legendary Indian princes incomparably elegant surroundings, but has all the modern comforts of XXI century Oriental very best in the fabulous spa and Western therapies.
Narbonne attention to detail, the warm service, without effort, the beauty of harmonious spaces and exquisite buildings all combine to produce a tranquil and romantic experience. The guests find that there is something magical about Rajvilas.
Staying in luxury hotel Rajvilas in Jaipur
All deluxe rooms fifty-four in Rajvilas open onto tranquil courtyards in a traditional Rajasthani setting. Each luxury villa site and offers a real four-poster bed teak and a bathroom sink white Italian marble overlooking your own private walled garden.
As one might expect, every conceivable modern convenience is provided - the private bar, the player via satalite TV and laser disc, direct dial telephone, dataport and same day laundry and dry cleaning, 24 in-room dinner hour butler service and ensure that every need is catered.
Fourteen luxury shops fully airconditioned all teak furniture boast, independent Edwardian-style bathrooms and interior simple but sumptuous embroidered flags.
Guests on the two villas and real chalet - which 1 bedroom pool has two bedrooms and a private dining - enjoy the privilege of your own private pool. The interiors in its simplicity, elegance and attention to detail, showcase all that is the finest of modern and traditional Indian craftsmanship.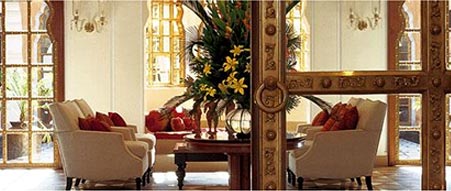 Treating your taste buds at the luxury hotel Rajvilas in Jaipur
The exceptionally high standards of service that distinguish Hotels Oberoi and resources around the world are evident in the gastranomo dinner offered to guests on Rajvilas. Surya Mahal restaurant serves a menu of exceptional quality featuring the best of international and Indian cuisine and fine wines.
To take full advantage of the romantic surroundings, guests can choose instead to dine under the stars in the courtyard of Surya Mahal and be entertaining, as were the Rajput princes, for traditional performances and dance misica Indian against the backdrop of the strength of Rajvilas.
Some evenings, tired out by travel or calm for a day luxuriating in the spa, the guests may prefer to relax in their rooms for dinner. With 24 service dining and in-room 24 hour hour butler, this is always a fine alternative.
Spa facilities and fitness at the luxury hotel Rajvilas in Jaipur
The Oberoi Spa by Banyan Tree this located in a restored mansion Rajasthani, part of which is now four new rooms eight spa treatment rooms that overlooked totally private lush, tropical gardens and offers the ultimate pampering experience to huaspedes world-weary.
The spa resort looks out over the main pool resource, reflecting in its mirrored surface white pillars and vaulted around the temples, encouraging reflection of a different kind, and relaxation.
Holistic treatments, using only the, purest finest ingredients therapies based on Ayurvedic, Asian and Western in the hands of medical experts that soothe and refresh the mind and body, preparing breakfast to face the world outside Rajvilas Renovated and refurbished.
Meetings and incentives in the luxury hotel Rajvilas in Jaipur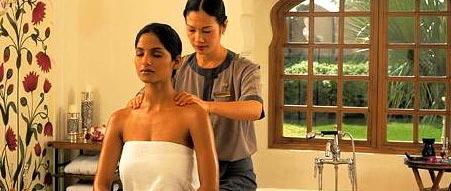 Rajvilas is an ideal destination for corporate meetings, planning sessions and meetings of the Council. The hotel offers the latest in office automation, conference facilities and secretarial services into two dedicated meeting rooms (40x16x15) and a private dining room that (30x20x15). Meeting Rooms 1 and 2 and the dining room every style private meeting room seating 22 and 35 as an auditorium.
The conference seating can be arranged as a space for strategy sessions square, style meeting room for Board meetings or horseshoe Council meetings (most best for audio-visual presentations ). The seat theater, dining and banquet style seating classroom can also be arranged.
Rajvilas offers delegates every opportunity to relax and recharge after a day of productive functioning in the resort of world class with Ayurvedic massages and aromatherapy in the gym, on the tennis courts or swimming pool.
About Jaipur
JAIPUR city of victory, was first thought to be Sawai Jaipur, named after the prince boy comisionn it - Maharaja Jai ??Singh II - a warrior, a astranomo and politician who ruled over the Mughals from 1699 to 1743.
Vidyadhar Bhattacharya, smart and visionary architect, design helped Jai Singh II and develops his vision of the city. The two began work during the second half of the reign of Prince in 1727. Concentrating on forming their basquedas and creative passions, ambicien Jai Singh of Jaipur was to make one of the largest cities of its time. he was clearly successful. Within five years a walled city of unparalleled beauty was created.
Jaipur was built according to a plan, the City Palace shining in the middle. Separate around in bleachers, was a pablicos buildings, residences of noblemen, and living quarters and trading of merchants and artisans. It is the simplest; Jaipur is based on seven blocks of buildings near subdivided straight, wide roads. All they surrounded, while the cities were after, by a high wall for defense which were fixed seven gates.
Today Jaipur is pink, visually described as the shaded city with autumn colors of a sunset. Although the walls were originally render the system and Pigments color red sandstone, Jaipur universal layer of pink came only in 1876 coincide with the visit of the Prince of Wales (King Edward VII). Almost the entire city was given a coat of pink paint, thus giving you the name Pink City.
In his book, suna Princess Rememberse, Maharani Gayatri Devi describes the city as well - ........ on flat, fenced by brown desert hills with fortifications and walls that snake on its contours. Capital itself was the most beautiful he had ever seen - A intricacy of bevedas and towers, trellises and gazebos, all colored with a color of deep pink oleander buildings. On the streets well thought out wide women wore skirts, blouses and shawls instead of saris, and all the men wore gloriously colored turbans - red, yellow, magenta, daffodil and a color of indescribable rose was pale and perforation. It was a increable Indeed, this rose against the background of the desert sky.
Hotel Facility
Airport Transfers
Arcade / Game Room
Audio-Visual System
Ayurveda treatments
Children room
Backup Power
Luggage room
Banquets
Restaurants
Bar / lounge
Beauty Salon
Business center
Car Hire
Coffee Shop
Concierge
Conference Hall
Currency Exchange
Doctor on Call
Porter
Parking
Check In verification
Garden
Golf course
Gym
Health club
Swimming Pool
Free wifi / Internet
Guest Room Amenities
AC Room
Attached Bathroom
Bathrobes
Bottled Water
Cable/Satellite TV
Climate Control
Complimentary Toiletries
Direct Dialing
Electronic/Magnetic Keys
H/C Water
House Keeping
Internet Access
Minibar
Newspaper
Quality Linens
Refrigerator
Safe Deposit Locker
Shower Caps
Room Service
Wakeup Calls
Nearest Airport to Oberoi Raj Vilas

Nearest Airport to Oberoi Raj Vilas is Jaipur International Airport. Distance between Oberoi Raj Vilas and Jaipur International Airport is 14.2 KM By Road.
Tourist Attraction near Oberoi Raj Vilas

Tourist Attraction near Oberoi Raj Vilas is Galtaji Temple Jaipur (8.6 Km, 21min).