Galtaji - An Ancient Hindu Pilgrimage in Jaipur
Galtaji is an ancient Hindu pilgrimage about 10 km away from Jaipur, in the Indian state of Rajasthan. The site consists of a series of temples built into a narrow crevice in the ring of Aravalli hills that surrounds Jaipur. A natural spring emerges high on the hill and flows downward, filling a series of sacred kunds (water tanks) in which pilgrims bathe. The temple is known for its natural springs, the water from which accumulates in tanks (kunds). There are seven tanks, the holiest being the Galta Kund which never goes dry. It is considered auspicious to bathe in the waters of Galtaji, especially on Makar Sankranti, and thousands come to bathe every year.
History & Architecture of Galtaji
The temple is built from pink sandstone and features a number of pavilions with rounded roofs carved pillars, and painted walls. The temple looks like a mansion or a haveli because of its magnificent architecture. It is believed that the temple was built by Diwan Rao Kriparam back in the 15th century, and has been an important location for meditation yogis since the 16th century. It is named after Saint Galtav who spent his life meditating here.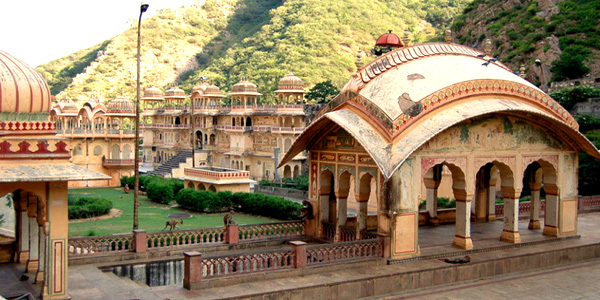 Sita Ram ji temple of the temple complex is colloquially known as the Monkey temple in travel literature, due to the large number of monkeys who live in here. These rhesus macaques were featured in National Geographic Channel's Rebel Monkeys series and "Thar Desert - Sacred sand" episode of the Wildest India television series. There is a small temple on the top of the hill dedicated to the Sun God. It is known as Surya Mandir.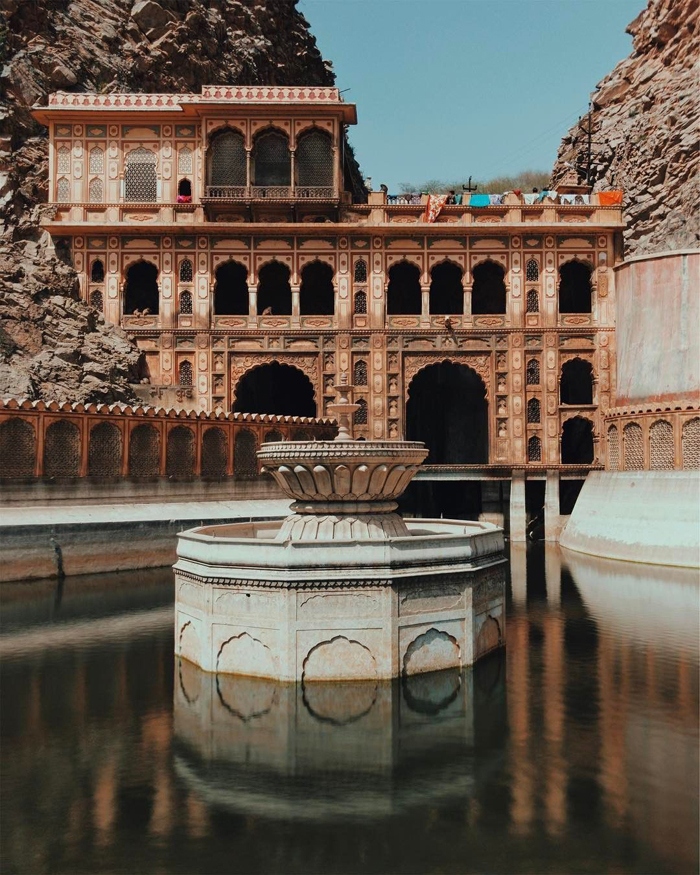 Visitors and pilgrims can ascend the crevasse, continuing past the highest water pool to a hilltop temple from there are views of Jaipur and its fortifications spreads out across the valley floor. The Galta Monkey Temple has a scenic and gorgeous landscape featuring rich green vegetation and has a spectacular sight of the Jaipur city.
Best Time To Visit Galtaji
The months of February-March and the time of October-December is the best time to visit this place as the weather is pleasant during that time. The Galtaji Temple is thronged with tourists and pilgrims in January during the Makar Sankranti festival to take a dip in the holy waters of the kund.
How to reach Galtaji
The nearest airport is the Sanganer Airport in the capital city Jaipur which is 10 Km away from Galtaji Temple. Private cab is the best option to reach the Galtaji from Jaipur Airport.
Hotel near Galtaji Temple Jaipur

Hotel near Galtaji Temple Jaipur are :

Sneh Deep Guest House (6.3 Km, 16min)
Hotel Jaipur Central (6.9 Km, 31min)
Luxury Hotel Oberoi Rajvilas in Jaipur India (8.6 Km, 21min)
Hotel Savoy (8.9 Km, 27min)
Samode Palace (10 Km, 28min)

.